Harry and Judy's RV Trip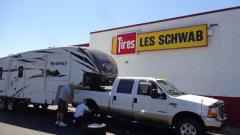 15th Jul 2013 - 16th Jul 2013 - Summer 2013
Day 40-41-July 15, 16, 2013-Canyonville, OR
Day 40-41-July 15, 16, 2013-Canyonville, OR
Sunny, 90, hot during day, cool at night
Drove 115 miles in 6 hours down I-5.
Yes, we did have more tire trouble! At the last campground we noticed a tack in one of the tires on the truck. Pull it out? Leave it in? We left it in. Took it into a Les Schwab Tire Center in Eugene, OR and it was a good thing we left it in. As soon as they pulled it out-WHOOSH!!! Out came the air. So they fixed it, checked all the other tires and brakes-all this-GRATIS-what nice people, and, two hours later, sent us on our way.
Our way took us into Canyonville, OR, where we stopped into Seven Feathers Casino Resort and RV Park, a sister casino to Wild Horse in Pendleton. Nice campground, well kept, quiet, again with the shuttle 24/7 into the casino. Didn't do much until after dinner when we went into the casino and won/lost/won/lost all night. They gave each of us $5 in free play for joining the player's club and an additional $10 each for camping with them. We also get 10% off the campground and 3 cents off the gas (which of course is higher than anything else around). So we played with their money and a little of ours and had a good time. There was karaoke going on in one of the lounges and some people were good and some were horrible. There's a heated indoor pool and spa at the campground and at the resort (which has a huge eagle sculpture out front and baskets and baskets of aromatic purple petunias all around), meeting rooms, arenas, convention center (with a big fight scheduled and some big entertainers, too), fitness center, arcade, ice cream parlor, restaurants and even a (gasp!) buffet. Golf courses nearby. We deliberately ate in the RV to avoid the buffet but we're staying another night so we'll see what happens with that.
Tuesday we checked out the facilities, the pool, spa, reading room, bbqs, firepits, etc. We then drove to the Wildlife Safari Park about 20 minutes up the road. It's a 5-mile drive through loop with animals from Asia, Africa and the Americas. They also have a village that's more like a zoo with other animals and things to do. Very clean and well kept. The animals look happy too. Lots of babies this time of year.
From there we found a winery a couple of miles away, Spangler, and went for a tasting…nice dry reds. Then back to camp for a few minutes and then off to the casino and buffet. Played a penny slot that was hot so I stayed at it for the next two hours and came out a bit ahead and quit. Ya gotta know when to fold 'em (unlike last night when I kept going 'til I lost it). All in all we came out even this trip. It was comedy night in the lounge so we listened to a few jokes, then came back to camp and there was a big fire roaring in one of the fire pits so we sat by it for a while.
Diary Photos
Diary Movies
---