Harry and Judy's RV Trip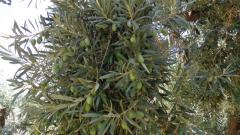 18th Jul 2013 - Summer 2013
Day 43-July 18, 2013-"Olive City", California
Day 43-July 18, 2013-It's all about the olive.
Hot again-100.
First order of business-grocery store-we were really running on empty.
Second order of business-OLIVES!!!! Never knew places like this existed. We heard about Corning from a man on the shuttle bus in Canyonville, checked it out and decided it looked like a nice place to stop. What an understatement! This place is great. Olive groves, almond and walnut groves abound here, it's "America's Olive City"-they say they produce half of all the olive products in the US. The Olive Pit, a restaurant for lack of a better description is a block away from the campground. They have "everything olive", starting with an olive tasting bar where you can taste whatever they have, olives stuffed with everything imaginable, tampenades, oils, vinegars, ice cream shakes with flavored vinegars in them, nuts, cheeses, soaps, etc. We tasted a lot of olives and oils and ice cream with chocolate balsamic and peach balsamic, then ordered a muffelata and ate it at the beer/wine tasting bar where there was a couple of vendors with wines that weren't even for sale yet. I tried a flight of beers and wines and then the bar and the vendors let us taste a few more of what they were offering. A great time was had by all and we spent quite a bit of time there.
We then went to Corning Olive Oil Co., a mom and pop company run by Carol and Ray, what great people. We tried their oils and vinegars, too and one was better than the other. What a great operation, they told us about how they press the olives and make the oil, they only do first cold pressed-quite interesting. They want to retire and RV in the next year so we're going to keep in touch.
From there we drove to Vina through olive and almond and walnut groves to the Abbey of Newclairveaux for a wine tasting, a winery run by the Cistercian order of monks. What great history of the building and of the vineyard! Back to the campground to rest for a bit, then off to the Rolling Hills Resort and Casino-it's half off the buffet tonight. They have a campground at the casino but we like where we are better. There's a golf course, rec center and other amenities for the hotel and lodge, too. Casinos are big out here, I think they do a lot of business with the truckers. They gave us each $10 in free play which we promptly lost but, all in all, came out about even and spent almost three hours having fun doing it. Really cooled off by the time we came out of the casino.
Diary Photos
---