Harry and Judy's RV Trip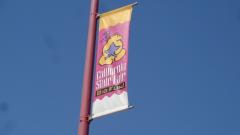 21st Jul 2013 - Summer 2013
Day 46-July 21, 2013-California State Fair
Day 46-July 21, 2013-California State Fair
Nice in AM, 107 by 3PM, cool breezy at 9PM-Go figure
We didn't know the State Fair was held in Sacramento, let alone that it was during this time, until we tried to get a campsite. We got the last site around for miles, the CalExpo, where the fair is happens to be about 2 miles away, so it's only fitting that we go to the fair.
Sacramento is called "America's Farm to Fork Capital" and the California Breadbasket so this is a hugely agricultural fair. There's plenty of exhibits, even a neat 3D experience, animals, wine pavilion, craft beer arena, horse races, car races, midway with lots of rides and games, a tram that went all over the fair and we saw a few things we would have missed without it. Inside the fairgrounds is a water park with over 25 slides, water rides and a wave pool. Entertainment venues run throughout the fair, we saw a few dance studios strutting their stuff-mainly Mexican dancing, but some jazz, too. Great mariachi band, too. The US Forestry Dept. even got Harry and me up on a stage to participate in a demonstration about how important trees are. A very nice tribute to 9/11 also. And food, food, food! Even fried twinkies. I thought twinkies were a thing of the past, but not here. There's a Wonder Bread and Hostess Cake plant in town that looks like it's still operating. The weather was pleasant in the morning, seemed like it was a lot cooler than yesterday but by 4PM we were wilted and ready to drop.
So, instead of being smart and going back to the AC and pool, we went into Old Sacramento, an eight block district with over 100 cafes, museums and souvenir and oddball shops. It still has wooden sidewalks, cobblestone streets and a railroad depot where you can take a train ride. Horse and buggy rides, too and supposedly the best train museum in the US. Maybe we'll get there later. We had some great Sacramento pizza and ice cold beer then drove through downtown Sacramento, this being Sunday we figured we'd avoid traffic and we did, it was quiet. This is the state capitol and the big, white capitol building is in the center of grassy, shady parks. There's a big Wells Fargo museum building in town that looks interesting, too. So many things to see, so little time!
Diary Photos
Diary Movies
---