Harry and Judy's RV Trip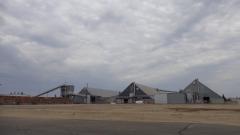 23rd Jul 2013 - Summer 2013
Day 48-July 23, 2013-Almonds
Day 48-July 23, 2013-Almonds
Not as hot today, only about 95.
Drove 139 miles to Chowchilla, CA on Rte. 99 in 4-1/2 hours.
We stopped at the Blue Diamond Almond Growers plant in Modesto and learned everything we always wanted to know about almonds and then some. They produce over 100 million pounds of almonds from this area a year and ship to ninety countries. Each Feb. when the trees blossom they import honey bees to fertilize the blooms and every August they use machines with two huge arms that surround the tree trunk and shake it to get the almonds on the ground. Then they sweep them into a pile and pick them up with another machine. It's like it's raining almonds and must be fun to see. We then tasted about twenty-five different flavors of almonds, some good (dark chocolate, coconut, some not so much-lime chili, jalapeno).
Continued on our way to a campground in Chowchilla through farms and more almond orchards with beautiful oleander in the median. They're all in bloom now and are really pretty. Only staying overnight at this campground then heading to Sequoia National Park to see the giant trees.
Diary Photos
23rd Jul 2013 Blue Diamond Almond Growers plant
---