Harry and Judy's RV Trip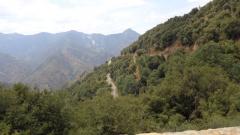 25th Jul 2013 - Summer 2013
Day 50-July 25, 2013-Sequoia National Park
Day 50-July 25, 2013-Sequoia National Park
Hot again, 96 at the campground at 800', down to 74 at 7000' in the Park.
Drove 30 miles into the park, most of it at 10-15 MPH on Generals Highway around switchbacks up and around the beautiful Sierra mountains, through Giant Forest where most of the sequoias in the park are to be found. They are magnificent to see and all look quite healthy. Supposedly they have a chemical in the wood and bark that's resistant to insects and fungi and the thick bark insulates them from most fires. Most of them die from toppling, they have a shallow root system and no taproot. The red bark color makes them stand out from the other millions of fir and pine trees in the forest. The General Sherman tree is said to be the biggest living thing on the planet by volume. It's 311' tall and 3200 years old and its largest branch is almost 7' in diameter. WOW! We stopped at the Wuksachi Lodge and Peaks Restaurant for lunch where we had a great salmon burger, fish and chips and sampled the lavender and honey ice cream that's made right down the street from our campground in a little candy store. The food was great but the flies were awful-there's no air conditioning so they leave the windows open. There are free shuttles that go back and forth between the visitor's centers and the attractions but we opted to drive the truck and go at our own pace. It was much cooler in the park but harder to breathe at that altitude.
The only way in is the only way out so we drove the 30 miles back down the 8% grade, switchback after switchback. They do have places to pull out so you can let the crazy California drivers go by. They're worse than New Yorkers!
Diary Photos
Diary Movies
---