Sailng on Windwanderer.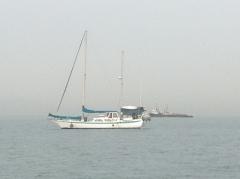 26th Jul 2013




Friday 26th July 2013



Friday 26th July 2013

Well after my son almost put me in an early grave, he is finally able to go home.
This has been a very hard 48hours, so my boy look after yourself, stay at home wrap yourself in cotton wool and don't move ok, and stop stressing your mother out so much....haha.... I love you heaps. xxx

Man between kids and boats, I have no hope of keeping the grey out of my hair, am spending a fortune here on hair dyes...hahaha

As for life on our boat, not much is happening, we are still having very quiet days and recovering, we can not get over our tired we feel and am not sure why, I think it's just stress and the heat.
Although today has been a lot cooler, and very windy.

We were sitting here in the cockpit this afternoon when we noticed a dingy floating away from another boat, now it looked like no one else had noticed including the owners of the dingy.

So Wind Wanderers crew to the rescue, now it was really windy and I'm watching it heading out to sea, while The Captain was madly trying to lower our dingy into the water, we get it down finally both jump in our dingy, race off, well as fast as a 9.8 horse power motor can go.
Battling waves and wind, get three quarters of the way there and another guy, gets in his dingy and grabs it, and it starts to rain...great.
We slow down some, get to the other guy he has it all under control, and is in his way back to their boat and all is well again.

So two very wet cruisers make our way back to our boat, having almost done our good deed for the day, and climb back on board again.
That was the most exercise we have done in two days...haha
But the owners of the dingy were very happy they had their mode of transport back again, with a lot of arm waving to thank us anyway.

But it's what you do out here, everyone helps everyone, things can go pear shape so quickly, and losing your dingy is like losing your car, so we were happy to lend a hand.

So once again we parked our butts back in the cockpit, after The Captain got into dry clothes he got really wet when a wave hit him full on and settled down again, to do nothing...hahaha

Well tomorrow is another day.



Diary Photos
26th Jul 2013 Image
The boat, with their dingy safely us out if the water.
---