Harry and Judy's RV Trip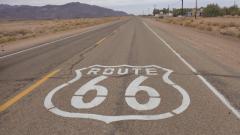 27th Jul 2013 - Summer 2013
Day 52-July 27, 2013-Laughlin, NV-Day 1
Day 52-July 27, 2013-Laughlin, NV
Did I say hot-it's 110 today.
Drove 130 miles in 2-3/4 hours to Laughlin, NV
Drove through more desert on Historic Route 66 which was the first completely paved national highway in the country and goes from Chicago to LA. Was officially declared a US highway in 1926 but wasn't completely paved until 1938. The part we drove on must have been the original blacktop because it was like a washboard and we didn't stay on it for long. We got on to I-40 as soon as we could. It was mostly desert but toward the end there were lava beds on both sides of the road and then pretty cacti all in bloom. Got off at Needles, CA and took the Needles Highway, another washboard of a road into Laughlin. There are flash flood signs all over and a lot of the road is eroded and you can see where flash floods have torn through it.
After we set up we went across the river to BullHead City, Arizona to buy fuel, it's .70 a gallon cheaper over there, and groceries. We're in a place called Cal-Nev-Ari because California, Nevada and Arizona all come together here and they all have very different rules and prices. The food (and everything else) in AZ is a lot cheaper than it was in California. And there's casinos in Nevada but not California or Arizona.
The campground is a KOA on the Fort Mojave Indian Reservation and it's owned by the Avi Casino and Resort which is across the street. We stayed here last year but I had forgotten how inexpensive it was. Because it's owned by Avi, they make it affordable so you'll come and gamble here instead of going across the river into Laughlin where there are a lot more casinos. The cost was $18 a night and I had a coupon for "stay 2 nights, get 1 free" so for $36 we're staying 3 nights. Our site backs up to the golf course and big willow trees so there's some shade. We get all the amenities of the resort, which is right on the Colorado River and has lots of boating, a big sandy beach for swimming and ski-doo activity. Nice tiki umbrellas for shade. A big (but crowded) pool with an adult only section, 5 restaurants (.99 ham & eggs all day, and ½ off the buffet tonight, guess where we ate) and 8 theatres. There's a resort shuttle, actually a golf cart that willpick us up and bring us back to the campground but we drove. We could walk it's so close, but nothing's that close when it's 110 degrees out. Spent a couple of hours in the casino, Harry broke even, I was up about $30. This is a family oriented resort, lots of children around the river and pool and I even saw a few babes in arms on the casino floor, which is usually not allowed.
Last year we made the mistake of leaving the car windows open an inch when we went inside the casino-it's over 100 degrees here, last year it was 122-and a sand storm came and covered the inside of the car. This year we closed the windows and, wouldn't you know, a sand storm came, blew over everything and you could barely see, and the car was sandy when we went back out but only on the outside. They say every afternoon a sand storm comes through. We'll have to remember that. Gets dark by 8 PM here, or 9PM, depending on what side of the river you're on, that's where the time zone changes along with the state. Had some great fireworks over the river that we could see from out campsite.
Diary Photos
Diary Movies
---