Harry and Judy's RV Trip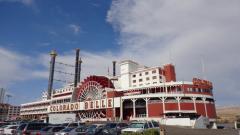 28th Jul 2013 - Summer 2013
Day 53-July 28, 2013-Laughlin, NV Day 2
Day 53-July 28, 2013-Laughlin, NV day 2
Hotter today, 110, but drier, it doesn't feel as bad as yesterday.
We started the day in the casino at Feathers Restaurant for the 99 cent breakfast, even though after last night's buffet I swore I wasn't going to eat again for two days. It was a nice breakfast, 2 eggs, big ham slice, toast and potatoes, Harry got free coffee because he's a veteran. Of course on the way out we had to drop some money in the slot machines and I won $25 in the same machine I won in last night.
Drove to Casino Drive in Laughlin which is where most of the casino action is. It's like a mini Las Vegas but I think a lot friendlier and not as glitzy. We found movie theatres and went to see "Superman, Man of Steel", which was pretty good but after watching Henry Cavill as one of Henry VIII's trusted buddies in "The Tudors" it was difficult for me to see him as Superman. I kept waiting for him to speak with a British accent and to call Lois Lane "milady".
Most of the casinos here are on the Colorado River with more boating and swimming going on and a couple of water taxis in case it's too hot to walk up and down the riverwalk. We decided to try our luck at one of the casinos here, The Colorado Belle, a 600' fake Mississippi paddlewheel decorated inside with maroon and gold carpets, wall paper and great paintings and crystal chandeliers. Big hotel attached to it too. It's got a working microbrewery inside and a few other restaurants. We signed up for their player's club and got $5 for play money and a discount at guess what? The buffet. So, even though we swore we wouldn't go to another buffet, we went to another buffet. But we did limit ourselves and we might be getting the knack of eating sort of sensibly at buffets. It took us a couple of hours but we managed to lose the free $5 plus the money we won this morning. But we're still here tomorrow, another day to win it all back again. Right!
It was a bit cooler when we got back to the campground. Let me re-phrase that…it wasn't as hot….cooler just doesn't describe the weather here. We heard some more fireworks near the river so we took a walk but they were just about over by then. Listened to a country band in Moonshadow Lounge in the casino for a few minutes. There was a nice breeze so the walk felt good.
Diary Photos
28th Jul 2013 Colorado Belle Casino Resort
---
28th Jul 2013 Us in front of Colorado Belle
Diary Movies
---