Sailng on Windwanderer.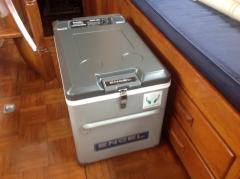 29th Jul 2013




Monday 29th July 2013



Monday 29th July 2013

Well there is excitement on this here vessel of ours....our new portable fridge/freezer has arrived from America....yay

Yeah I know it may not be too exciting for some, but having lived without a freezer, for months now it is way over exciting for us, now we might just get some ice for Happy Hour, and I can go back to cooking up a storm, and freezing them for our passages.

The big thing was as always, how our are we going to get it to the boat.
Now it's not over big, but still heavy, and there was just no way we could get it from this crazy dingy dock, I'm sporting a very nice 4inch bruise, on the side of my ankle, from the last episode, so that was not gonna happen again.

We found out there is two other dingy docks here but you need to go out around the island a bit to get to them, and also pay to leave your dingy there.

So off we go in search of the other docks, they told us it would take about 15mins, more like 30mins later we get to the third dingy dock, as we bypassed the 2nd, we were meeting a couple on their boat, who were giving us their paper charts of the pacific, as they are selling their boat after only 2 years sailing and going home.

Now why we needed these, only The Captain knows, we have paper charts from all over the world on this boat at the moment, but in all fairness a lot are borrowed, but we have a USB chip with every chart of the world, plus back ups as well.

But anyway it was nice meeting them and I'm sure the charts will come in handy one day.

So we go to the dingy dock near them, you are suppose to pay but the couple told us just to walk straight through and act like you know the place and you won't have to pay.

Now us being the good people that we are...not, did just that...hahaha

So off we go, very quickly in case we are being chased down and find the Marine Wharehouse where are freezer has arrived to, now this was a bit of a walk in extreme heat with us really having no idea where it was, and stumble across it about 100meters from our own crappy dingy dock...hahaha

So get the thing on are trusty fold out trolley and off we go for about a meter and realise this thing is not going to make it all the way back, without The Captain breaking his back, or the thing falling off and breaking.
So The Captain goes off on the hunt to find something to tie it down with, he notices some plastic tape around a section that is cornered off in the car park, and thinks yeap that will do, I'm thinking the guard on duty is gonna shoot us.
But there was a strip off it blowing in the wind so he breaks this off and comes back with that old pirate look and ties it up.

So all is good get back to the dock, now we have a very steep walkway to attend too, so I go down first, than The Captain with the freezer in front of him, all went well then to the dock, we manage to get it into the dingy, without it going into Davy Jones's Locker and all breath a sigh of relief.

Then the journey back, well the wind picked up just as we headed off, and man talk about rough, we thought the trip to here took a long time, I can tell you the trip back was worse, with as crashing into waves getting thrown all around trying hard to keep the paper charts from getting wet, thank god they were in a plastic bag, and making sure the freezer did not go overboard.
The Captain tried everything from going fast, going slow, going sideways the later may of just been the waves, but nothing we had to just go really slow and put up with the wave crashing onto us.

Two very wet cruisers climbed back on our boat, with a sigh of relief, yay we made it, now to get the damn thing out of the dingy and onto the boat.

By his time I was so not excited anymore with water dripping from head to toe, and every part of me hurting from being thrown around, I left it in The Captains hands to work that one out.

He just had a brain storm and decided to lift the whole lot up on the davits and when then dingy was level with the back of the boat, just slid it straight off onto the deck, it worked perfect, he them dragged it into the cockpit and I unwrapped it.

All was ok I was so worried that it would of been ruined by all the salt water before we even had a chance to even turn it on, but it was bone dry thank god.

So we managed to slid, kinda pull it down the steps and it is just sitting here, as we are both way too tired to do anything else tonight, tomorrow we will look at installing it.

Well tomorrow is another day.



Diary Photos
29th Jul 2013 Image
Our new fridge/freezer
---