Sailng on Windwanderer.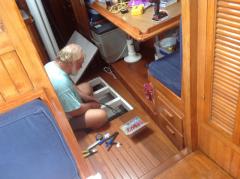 30th Jul 2013




Tuesday 30th July 2013



Tuesday 30th July 2013

Well today I once again tried out yet another home remedy, and yeap another hair product.
This one came about while I was trying to find a better remedy for those sticky fly paper.

I googled extra sticky fly paper and a home made shampoo and conditioner came up... go figure.

So of cause I had to try it, and yes I do have mountains of shampoo and conditioner on the boat, but the sun, wind and salt water is taking its toll on my hair.
Not to mention the hundred and one hair dyes...haha

I'm also not sure whether it could be just our water as well, the water maker turns salt water into pure safe drinking water, which we use for everything.
It is very clean water, but does have a hint of salt to it, but thats not really a problem as everything on here is salty, you do get used to it really quick, and we drink it by the litres daily.
So maybe that could have something to do with this hair of mine.

Well here it is, you mix a tablespoon of baking soda with around a cup of hot water, and stir till dissolved, this is your shampoo, you wet your hair thoroughly than pour it on, rub it well into your scalp and hair, rinse well, oh and let it cool first don't go pouring hot water on your head.

The next is the conditioner, again mix a tablespoon of Apple cider vinegar, or lemon juice with a cup of water.
They say the vinegar is better but I hate the smell of it, and besides the fruit flys go nuts over this stuff, they love it and they sure don't need any more encouragement I can tell you.
So I opted for the lemon juice.

So after the baking soda has been washed out pour some of the lemon juice onto your hair, mix it in and again thoroughly wash out.
Now I have to say when the lemon juice mix went on, my hair instantly felt like straw, I was terrified that my hair would just break off.
But once you wash it out its a lot better, after towel drying i put in a tiny bit of hair oil stuff that I use all the time anyway, and man you should see the difference talk about soft and it's so so shiny, am totally impressed with this stuff, just have to get The Captain to try it now....haha

They say it can take awhile for your hair and scalp to get used to it, so we will wait and see what the next few days do, but so far I'm sold.
Give it a go, you never know and just think how much money you will save on all those expensive shampoos and conditioners that we all get sucked into buying.

So now to boat stuff our new you beaut fridge/ freezer is getting installed today, yay.
By none other than the resident electrician on board, yeap he is not only The Captain, but a jack of all trades now.

So after not much time or cursing everything went smoothly and the old portable fridge has a new mate, hopefully working a lot better than the old one...time will tell.

We had arranged to meet up for dinner with the couple that we got the charts off yesterday, so after a very careful discussion, we decided that we would once again brave our dingy dock...yeah I know how crazy are we.
At least this time it was still light, at 5.30pm.

So off we go, as we get closer we notice a lot of young kids, on the steps, and a lot of rubbish also, it seems that they had all been out on a few boats collecting rubbish around the water edge, and man I can tell you there is a lot of rubbish floating around here, so good on them for at least trying to clean it up some.

But it was all over the steps not just, one or two steps, there was everything from rope, boat parts, paper, and a lot of broken glass.
They were in the process of ferrying people and rubbish all to shore, so a lot of activity was happening.

We got to the steps and two of the young guys held onto the dingy and helped me get ashore, this was so nice of them, and I thanked them in Spanish, about the only word I know in Spanish is Gracias, ( thank you )
Now they are still holding the rope of the dingy and wanting to help The Captain get out, we are both trying to explain that he did not want to get out here as he needed to get the dingy to the floating dock first and lock it up.
And down one of the guys go, slipped on his butt down two steps, and another guy comes down and slips down about three steps on his back, they had blood running down their legs but still trying to help us.

See it's not just us cruisers that slip it seems the locals have major problems with this dock as well.

So eventually we get them to understand and The Captain gets to the floating dock locks up the dingy, climbs into the little wooden boat and pulls himself to shore, with a little bit of help from me pulling the ropes, as he was going nowhere, just sitting bobbing around, was kinda funny.

And we made it no slips at all, and off we go once again having survived that horror and meet up with, Jane and Ean, what a nice couple, we had a very nice night, with a lot of tall stories and lots of laughs.

The laughter soon stopped once we faced the dock, to go back to the boat, but all went well, as the tide was almost high, and it was easy to get back in our dingy, and once again with another huge sigh of relief we headed back to our boat.

And all is right in our little world once again.

Well tomorrow is another day.



Diary Photos
30th Jul 2013 The Captain playing Electricans
The Captain, playing electrician.
---