Harry and Judy's RV Trip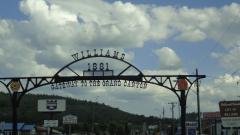 30th Jul 2013 - Summer 2013
Day 55-July 30, 2013-Williams, AZ
Day 55-July 30, 2013-Williams, AZ
Drove 161 miles in 3-1/4 hours.
Went from 102 degrees at 9:15AM in Laughlin, NV to 81 degrees at 3PM in Williams, AZ to 72 degrees at 8PM in Williams, AZ
Hooked up and left the campground but parked in the casino lot for breakfast. With our points and credits breakfast cost 35 cents this morning. Stopped at "my machine", threw in $5 but only broke even after 10 minutes, whereas Harry made $25 in 10 minutes. Hate to leave this place, it was very profitable for us. But leave we must.
Drove through the desert again but after a while we started seeing more shrubs instead of just sagebrush, more mountains and real dirt instead of sand. We're at a higher elevation, too, so it's much cooler and a lot more comfortable. They say we missed all the rain, up until today it's been raining here (and in Laughlin) for two months straight and a lot of the roads are washed out. They call the rainstorms here monsoons so they must be bad. We haven't seen a drop of rain the whole time we've been on the road. We must just be missing it. AZ is always in Mountain Time, they don't change to daylight saving time and it was really dark by 8PM. And there was a chill in the air that felt great after Laughlin's heat. Harry changed the air filter in the truck which needed it badly.

The biggest draw to Williams, AZ is probably the Grand Canyon Railway that has a 1950's steam locomotive that goes up to the Grand Canyon every morning, leaves you up there for 3-1/2 hours and then returns every evening and is a great alternative to driving up. It's at a 1910 depot that is the only working log depot in the country.
Another big tourist draw is that Williams is on historic route 66 which is the only main street going through six blocks in town. But what they fit into those six blocks is wonderful. Lots of Route 66 memorabilia, 50's and 60's music piped in through the streets and stores in town, although a lot of restaurants have live music outside too. There's a zipline that goes back and forth over the Grand Canyon Railroad and you sit in a 1957 Chevy. Vintage 50's and 60's cars are parked along the street and in parking lots. We did a wine tasting and then walked down the street to watch the cheesiest gunfight I've ever seen but it was entertaining. They blocked off the street for the gunfight with two horse and buggies and you could get a ride through town on them if you wanted. The Wild West has a big presence here too, lots of cowboy and Native American Indian gifts and souvenirs. We then walked back up Route 66 to Cruiser's Café that has a huge smoker out front and we split a chicken dinner and there was enough to bring some home. Grand Canyon Brewery is in back of the restaurant and I did a flight of their beers. The raspberry wheat was definitely my favorite. Harry got the pumpkin porter, the darkest they had but he wasn't crazy about it. He likes a dark ale but not a flavored one. He even tried every one of my flight and didn't really like any of them that much either.
Diary Photos
Diary Movies
---