Harry and Judy's RV Trip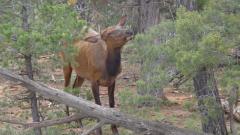 31st Jul 2013 - Summer 2013
Day 56-July 31, 2013-The Grand Canyon on a Whim
Day 56-July 31, 2013-The Grand Canyon On a Whim
Beautiful weather again-in the 80's went down in the 50's last night, we needed to turn the heat on.
The Grand Canyon is 59 miles from Williams, straight up route 64. We hadn't planned on going there but, it's the Grand Canyon and we're so close, how can we not go. I can't believe we're actually going to the Grand Canyon as basically a side trip. We were there two years ago and I couldn't believe we were seeing it then and now a second time is surreal. As soon as we got inside the park there were two elk just strolling along among the pine trees on the side of the road. We got out to take some pictures and they must be used to people, they hardly knew we were there, but they did mosey along after that.
Stopped at a visitor's center and on the way out there was another elk in a very small patch of pine trees. Nobody seemed to see her, we were the only car stopped and I could have reached out and touched her from the car window. She was busy nibbling on some grasses and tried the pine needles on the tree but didn't seem to like them too much.
Stopped at one of the view points and oohed and aahed at the sight of the canyon. I can't describe it so I won't even try….you have to see it to get the full "pow to the senses". And you can tell when it's somebody's first view, they say something like "OMG" or "WOW". Not many words, I think the sight leaves you kind of speechless for a few seconds until all your senses get together and you really look at what you're looking at. It is, in a word "Grand" and different from all the view points.
We drove around some more, stopped and ate the lunch we brought at the Market Place where there were tables and then checked out the Mule stables where all the mules were just chilling. At the depot the steam train was waiting to take passengers back to Williams.
We went back into Williams to a little Mexican restaurant that was only so-so. Trip Advisor said it was great but it was more like a take out place. Walked through town again, saw the Wild West actors milling around town and found out it was a different show tonight. Better, still not great. Back to campground and read and got ready to take off again tomorrow. Glad we camped in Williams instead of Flagstaff which was our first choice, I liked it better here and the campground was only 5 minutes from town and an hour to the Grand Canyon.
Diary Photos
Diary Movies
---