Sailng on Windwanderer.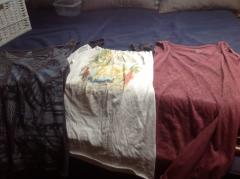 3rd Aug 2013




Saturday 3rd August 2013



Saturday 3rd August 2013

Well a busy busy day, actually the last three days we have been flat out, and boy are our bodies aching.

The Captain, spent almost all day fixing the water maker, after a huge struggle I tell up you, and it is back making pure, slightly salty water once more...hahaha

His next job was onto the freezer, after chasing a new wire, to use for it, this took ages, but it was just going to take way too long, he has finally given up, we are going to try and turn the old fridge temp down and see if that helps the new one.

Myself well after the water maker was fixed I did our last huge was for awhile, and got it all hung out around the boat, only for it to rain, yeap Murphy's law ...hahaha

Can see us sailing away tomorrow looking like a Chinese laundry.

Then I decided to make bread again, yeah I make it every 2nd day, it still is not rising, but it taste great, until today's, this one was like a brick, I have no idea what I am doing wrong, I have used a million and one different recipes, but still no luck.

Also I have been busy altering the clothes that we got the other day, into cooler clothes, as its still way to hot even to just wear a t-shirt, so yeah the high fashion of the high seas,....not. Haha

So tomorrow we leave, we will go to Las Perlas, for a day or too, watch some whales, and meet up with the other boats and head off, for our big big crossing.

I will still write daily on my blog, and upload it all when we get Internet again, so man are you going to be reading for days...haha

We do have email on the boat, and can send and receive emails out at sea, so if anyone , wants to keep in touch feel free to drop us a line, just no pictures as they won't allow that. Oh and we love to get messages, it's the high light of the day.

The email is VJN4195@sailmail.com

Well tomorrow is another day.



Diary Photos
3rd Aug 2013 Image
Some mens tshirts made into ladies kinda tank tops
---
3rd Aug 2013 Image
Some of the clothes I have been remaking, two dresses into two tops and a skirt
---