Harry and Judy's RV Trip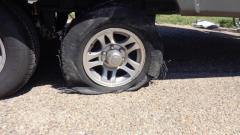 5th Aug 2013 - Summer 2013
Day 61-August 5, 2013-And Another Tire Bites the Dust!
Day 61-August 5, 2013-And Another Tire Bites the Dust-And Cadillac Ranch in Texas
Drove 222 miles in 8 hours….quite a day.
Reached 101 in Amarillo, hot but warm and breezy at night.
Drove on I-40 all day from New Mexico through Texas to Oklahoma, pretty boring scenery.
It was supposed to be an easy drive to Texola, OK and we had hoped to get there early. Didn't happen. Just as we entered Texas and Central Time zone and started listening to our book on tape, just like last time, we heard a pop and immediately knew what it was. This time it was the back tire on the driver's side of the RV that was shredded. Pulled over to the side of the highway but there really wasn't any shoulder so we limped off the exit about 2 miles away in Adrian, TX. Called roadside assistance who said they would get somebody out within 85 minutes. OK, we're patient people. We had lunch, I finished reading my book and 90 minutes later the repair man calls and says he'll be another 55 minutes. In the meantime, some people had stopped and asked us if we needed help but we said we'd wait. So 2-3/4 hours later the guy comes and in eleven minutes he's done. Harry says we're bringing a better jack next time so he can change it himself. So now we have two tires (both were new when we left Florida) to haul back with us. We stopped at a Discount Tire in Amarillo and had them mount the extra spare so we still have a spare.
While we were in Amarillo we stopped at Cadillac Ranch, a field with 10 vintage Cadillacs buried nose down halfway in the middle of a cow pasture and people spray paint them. We only had magic markers but we borrowed gold, blue and neon pink spray paint and added to the graffiti. Why is this fun? I don't know but it was. We both had white shorts on and between the street dirt, tire dirt and spray paint they're not white anymore.
Continued another two hours on I-40 to Texola, OK, right on the Texas border where we're staying tonight and then heading to Oklahoma City, OK. Met a nice couple from Davenport, FL who are heading to California and talked with them most of the night. Stars were beautiful tonight.
And I won $12 in the New Mexico Powerball which payed for the campground tonight.
Diary Photos
Diary Movies
---