Harry and Judy's RV Trip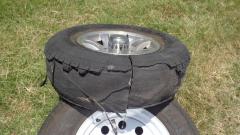 6th Aug 2013 - Summer 2013
Day 62-August 6, 2013- AND ANOTHER TIRE BITES THE DUST!!!!
Day 62-August 6, 2013-And Yet Another Tire Bites the Dust (And Baseball)
I've never been this hot-101 and humid!
Drove 160 miles in 5-3/4 hours.
Plan A-Nice easy three hour drive to OK City, set up early, dinner at Cattleman's Steakhouse, ballgame in Bricktown.
Plan B-ANOTHER SHREDDED TIRE!!!!!!!!!
It's been a 3-strike day. Third tire shredded and baseball game.
Started out a great day-stopped at the OK Welcome Center and talked to a nice woman who makes jewelry-Harry and she are going to stay in touch. Got some great info on what to do in Oklahoma City (from now on OKC). Got to mile marker 97 and heard another POP! Imagine the words that came out of our mouths as we realized another tire had shredded. This is #3 of the 4 new tires we bought before we left FL. Called roadside assistance, of course we're in the middle of nowhere again so it'll take 80 minutes. Where they come up with these times is beyond me. Just say an hour and a half. Anyway, Harry decides to change it himself. On the side of I-40 with trucks whizzing by. In 101 degree sun. With a Mickey Mouse jack. But, Harry the Hero gets it done. I called to cancel the service and about 10 minutes down the road the service guy calls to ask where we are, Good Sam had never cancelled the call. And did we learn our lesson about white shorts?-NO! We both had on white shorts again.
We stopped in Yukon, OK (home of Garth Brooks, everything is on Garth Brooks Blvd.) and bought two new tires-different brand. The people at Discount Tire are great-they got us on the road again in no-time. Even helped us figure out how to carry three shredded tires home again so we can get reimbursed.

Got to the campground in OKC at 5PM, had tickets for the game at 7-the stadium is less than 15 minutes from the campground. Quick cold showers, dinner and off to the game at Chickasaw Bricktown Ball Park in the Bricktown area of OKC, the OKC Redhawks vs. Colorado Springs Sky Sox. We saw Sacramento beat Colorado Springs when we were in Sacramento and tonight we saw them get beat by OKC 6-3. It's nice when the home team wins. Redhawks is a AAA affiliate of the Houston Astros. The minor league games are more fun than major league-they get the crowd more involved, although I don't know how the mascot, Ruby the Redhawk, could breathe in the costume in the heat- at 10:30PM it was still 98 degrees. Not many fans here tonight-too hot. Back to the campground and another cold shower-did I mention I've never been this hot!
So, all in all, the day ended great too!
Diary Photos
Diary Movies
---