Sailng on Windwanderer.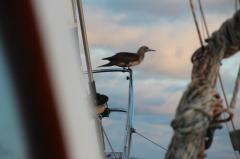 10th Aug 2013
Saturday 10th August 2013
Saturday 10th August 2013
Day 4
2am my watch
First of all I like to wish my nephew, Mitchell a very happy birthday, I hope you had a great day, lots of love. xxx
Sometimes I should just shut up and not say that nothing happens around here, man we have just had such a fright.
I woke up and could see a red light in the distance, we watched it for awhile, and than The Captain decided to call them on the radio as we were thinking it may of been The other Aussie boat.
But no answer, we decided to stop the motor for awhile to see if it changed position, as I was thinking it looked more like a buoy to me.
The Captain decided to go have a closer look, so we started the engine and was watching on the radar as well and started to get less than 1/4 of a nm away from it, I stood up with my head through the cockpit opening and looking through the binoculars,
And man it came up so quick, it was a huge structure, I yelled at The Captain to change course quick, and we just missed it, I can tell you every single part of me was shaking from head to toe, man it scared me.
What was it? We really have no idea, it was shallow water around, like about 8meters, which is fine for us, so maybe it was just a beacon for ships, it looked like it was on the top of a huge tower, but very wide as well, twice the size of us easy.
Whatever it was it really freaked us out, as it was not on the maps at all, I can tell you that I'm spending more time looking out the hatch than sitting at the moment.
7am
Well after a a few hours sleep I feel a lot better, and have gotten over our fright, well kinda.
In one way it has made us more alert, I guess we needed that little wake up call, you tend to just take it easy look around every now and then, as nothing really happens its just water after water, an occasional bird, and a few dolphins and nothing else, and as I said to The Captain curiosity killed the cat, so we are never going to do that again.
9pm my watch
Well I still have not really settled down from our earlier fright, it's been really freaking me out still, if we had been going one or two degrees to port we would of hit it, I think what concerns me more is that The Captain had fallen asleep on watch, so I have really not been able to sleep real well since.
We hunted out the manual tonight for the radar, and have set an alarm, am not sure it works yet as we have to wait for something to come into the area that I have set around our boat, I sure hope it works, time will tell.
As for today, the day started off the same no wind motor sailing, till around lunch time then the wind picked up big time, we turned off the motor and are now sailing, but it means we are having a shocking time, getting thrown around so much, it is so uncomfortable, and to be honest scary.
To the point that I could not even make dinner tonight as its just too rough, neither of us are really hungry anyway, and we have bread that I baked yesterday, so if we get hungry we can make a sandwich.
And still no fish, :-(, I was told that the green or blue lures are better than the rest, so this morning I dug out all the fishing gear, and man do we have some, and sorted it all out.
It was a huge mess, but I managed to find some blue and green ones, and sorted out all the rest, everything has its own place now, and all the lures, are in little clip lock bags, these clip lock bags are my new best friends, i have hundreds of them in all sizes, and I use them for everything.
The fishing gear is so neat and tidy now and I can put my hand on anything real quick.
The amount of stuff I have here I should be pulling in fish, every minute I tell you, but no, nothing and the green and blue well they just suck, have not even had a nibble.
Well tomorrow is another day.
Diary Photos
---