Sailng on Windwanderer.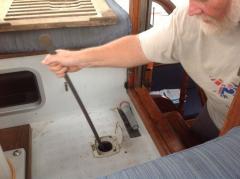 17th Aug 2013
Saturday 17th August 2013
Saturday 17th August 2013
Well today was another early start, as we need to get some fresh fruit and veggies, at the local farmers market, and also in the next little town from here they told me they had cedar plugs for fishing.
The later I was so excited about, so we go ashore and get a taxi, again another language barrier with the driver coming into the office here and the girl who speaks broken English try's to explain to him where we want to go, and what we want, with us two standing there acting out us casting out fishing rods, yeah you should see us, it's quite funny, but we managed to get him to understand, and all was good.
So we go to the place and they have no idea what we want, far out here we go again, with the actions and The Captain drawing a picture, me looking up words in the dictionary, and nope nothing, so the taxi driver takes us back to another store, all the time him getting out as well and coming into each store with us, what a nice guy they really go out of their way to help.
But nothing, so we decide to just go to the markets instead, he takes us there and we pay him a very small amount, and out we get.
These markets are something to be seen, man they have so much stuff a lot we had no idea what is was, but we managed to get bags and bags of stuff, and some local cheese, and some real peanut butter for The Captain, they just grind the nuts right there into paste, that's it.
We walked around some and I kinda thought we may get some chicken and beef as well.
Nope not gonna happen, there is rows of the stuff, just sitting there, It did not smell or anything, but seeing whole chickens, heads feet you name it, we just looked at each other and The Captain says you could turn vegetarian real quick here hey...haha
We left with just fruit and veggies, and caught a little bike thingy back to the dock, on the way there I even saw people selling chickens, with feathers and all.... :-/
I better up my fishing skills.
So back to the boat I get stuck in trying to sort all this food out and The Captain the last two sails, this new system we have sucks big time, the Captain takes down the mizzen boom and the bracket that holds the end rope, is gone, somewhere in Davy Jones locker, he is so not happy, with the help of Alan they managed to fabricate, something that we hope will work, we worked as much as we could until it was just too dark to see, and will be up once again early tomorrow morning.
We have to leave tomorrow on high time, which is about 1.30pm so we will be racing to get it all done.
Well tomorrow is another day.
Diary Photos
17th Aug 2013 Image
The Captain out at sea hand pumping the bilge.
---
---
---