Sailng on Windwanderer.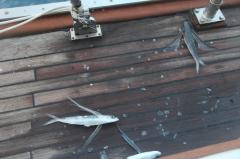 5th Sep 2013
Thursday 5th September 2013
Thursday 5th September 2013
Day 18
08° 58'S. 115°29'W
1436nm to go.
3am
And here I sit yay, have I told you I hate night watches....haha
Yesterday morning when I did my morning walk around deck, hunting for flying fish, and maybe just maybe some squid, if I'm lucky.
Lately not so lucky on the squid department.
But man was there some flying fish, at least 13 of the guys...haha
Boy was I happy, there was some serious fishing going to happen today.
In fact I had a hit on my rod early in the morning, and raced out there before it took all my line, only to have it get away, while I raced back to get my harness on, as it was still very rough.
So bring that line in, and it had snapped the wire tracer, then bring in my hand line the same, tracer snapped...great.
At the rate I'm going I'll have no tackle left soon.
So after I re rigged both lines I start on with the flying fish and have used them all day, with no luck at all.

So today, we have no wind to speak of at all, we are lucky to be doing 1knt, this is crazy compared to the last 24 hours or so, from being thrown around so bad for so long, now we are just sitting bobbing around.
Am thinking I may be going crazy, who in their right mind would hand wash towels at 4am in the morning?
Yeap me, there is a method behind this madness.
I was so tired that I needed something to keep me awake, so I cleaned up the galley, and than decided to wash and soak all the towels.
This set a trend for the whole day. I cleaned rearranged lots of things I was really busy all day.
Late this afternoon, I dragged out the printer, this is in a locker under the Nav Chair, and has a lot of things in their including all our extra life Jackets.
To my surprise I found 9 more large rolls of paper towels, now this is like finding gold, I tell you.
We use them for everything and I was down to my last roll and things were getting desperate.
I so wish I had got a lot more in America, as they are very expensive to buy anywhere else, and I was told this, and we honestly thought we had got enough.
Getting back to the printer, earlier in the day I had typed up, a provisions list and wanted to print a few copies, this is a formal list as close as possible in detail, as we are starting to come into country's that will not allow a lot of items into their country. This list they can read
And it saves them searching through the whole boat, I can just locate the items they want.
Now it's a not everything on board list, as something's are left off and hidden as I'm not giving them up, for no one.
Call us pirates once again.... Haha
After printing that off, I also typed up a crew list, this is another thing that all countries want, just detailed info on names, dob, passport no, nationally and position.
It's the first time I have called myself First Mate, not the usual name I go under as Deck Scrubber, was kinda nice.
Than I also printed off my whole blog, to date, so this can go back with my girl and her man, to give to my parents to read our adventures.
Man do I right some stuff, this is so thick, she will have to pay extra baggage weight...haha
Well tomorrow is another day.
Diary Photos
5th Sep 2013 Image
Flying fish bait
---