Sailng on Windwanderer.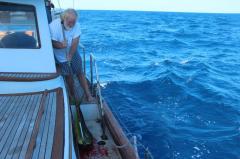 8th Sep 2013
Sunday 8th September 2013
Sunday 8th September 2013
Day 21
09° 08'S. 120°54'W
1055nm to go
2.30am 
Once again here I sit, and try everything and anything to amuse myself, and keep awake.
I always start with a Coffee that The Captain has in his hands freshly made when he wakes me, :-)
We have both started doing this for each other, and it really helps, put you in a better mood, well sometimes...hahaha
Being woken up at two or three in the morning, with only about 3-4 hours sleep under your belt, can really be a struggle, and half the time you really don't want to even look at anyone or anything, grumpy as can be, but a smiling face and a coffee greeting you, is always nice.
So I usually drink my coffee growling away to myself, trying to find the fun in this, which never happens.
Until eventually the eyes come into focus, then I play a few games on my Ipad, that either puts me in a better mood, or worse, depends on who is winning...haha ( so far the Ipad.)
Then I check emails this can take up about an hour of my time, as sailmail, can be very iffy, it's not like you just turn on your computer and they download.
You have to turn on the computer, load up sailmail, put in the coordinates, turn on the communications button on the control panel, along with switching everything else off, that you possibly can, to stop interference, than with a torch in hand, cause you have switched off the cabin lights as well.
You turn on the radio, wait for it to fire up and connect, than plug that into the computer, and cross fingers that it all marries up.
Then you have to find a station with enough coverage that you can connect to. This alone can take for ever.
When you finally find one you hit connect, and wait, sometimes it will connect sometimes not.
The fun part is, if it does not connect, you have to turn off the radio un plug it from your computer, and start all over again.
It's nothing to do this dozens of times, in one sitting, sometimes, you even have to restart the computer as well.
While this is happening you jump up and down a lot to check that nothing major is going on up on deck, as you need to turn off the alarm on the radar as well, or it goes mental.
So several coffees later, after you have cursed everything and everyone, who had anything to do with, ham radios, computers, boats you name it, you either connect and have mail, or connect and have nothing, the later you curse even more as it was a completely waste  of time, or you can't connect at all, and just give up, and try again in an hour or two.
So yeah please pease send lots of mail, not only is it the highlight of our day, but at least going through all that drama makes it worthwhile.
We have had a beautiful day again today, although I slept almost half of it, but a sure needed it.
I was about to tackle the galley again, when I heard my rod start to sing, sounds a bit like our boat.
Have I told you she is a happy boat, well she must be cause she sings and hums.
Serious, it is only the wind in the rigging, at a certain angle, but it really sounds like singing, with words and all, very strange.
So getting back to my rod, I race up on deck, and start the cat and mouse chase, slowly bring it in, let some out, bring some in and so on.
And guess what it is in sight, it's a Mahi Mahi, surprise....haha
Now this guy is huge, so I leave him for awhile to let him tire himself out.
After a lot of waiting and watching, I think he must be just about done in, so The Caiptain gets the net ready.
We decide that there is too many things on this side so we move the rod to the other side.
I was very nervous about this as I was sure we would lose it.
But we went very steady let out some line to take some tension off and got it there.
we get it in a good position where I can reach it with a net and I try to scoop it up, but it's way too big for the net.
We swap places The Captain grabs the net and try's too, nope this is not gonna happen.
So out comes the gaff, now our previous experience with this thing has not worked at all, every fish we have tried to hook with it we have lost.
I'm thinking there goes this beauty, but low and behold, we jag it and bring it on deck.
Now we both stand back to wait, and sure enough it starts a mental dance, man it kicked it bucked, blood everywhere, at least this time we were both out of the line of fire.
With the camera in hand we watched in amazement as it changed colours, it went from yellow and blue, to all silver and blue, to back to yellow and blue, crazy.
Then out come the tape measure, we just had too, it was a whopping, 1 meter, 25cm long, the best so far.
Then the big job of filleting, this took ages, but we now have, a lot of meals ahead of us, and I have some more bait.
I clean up the mess, put some of it on the hooks, throw both lines out, and go and have a much needed shower.
After I soak my clothes, to try and get some of the blood stains off, I settle down to have a coffee, before I even park my butt on the seat, the rod starts singing again, far out.
This time there is no way I'm going through all that again, so I sit with my coffee in a bean bag, on the back deck, and watch and hope it gets off.
I even reeled it in really close where we lose them all the time, but no way was the guy coming off, so we scoop it up with the net, I get the hook out and let him go, was a shame to let it go, but we really did not need anymore fish at the moment.
After I fine fish bake we once again settle in for the night.
Well tomorrow is another day.
Diary Photos
8th Sep 2013 Image
The Captain trying to get some control over this guy.
---
8th Sep 2013 Image
The big dude
---
8th Sep 2013 Image
The proof.
---