Sailng on Windwanderer.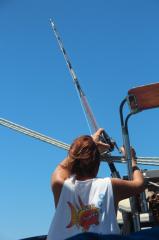 9th Sep 2013
Monday 9th September 2013
Monday 9th September 2013
Day 22
09°24'S. 123°16'W
914nm  to go
5am
Here I sit coffee in hand, feeling like I have had no sleep at all.
It's been a rough night, with strong winds going in all directions, and one very lumpy ocean.
Late last night my rod started singing again, then stopped, then started, this went on for awhile until I just had to go out there and at least tighten up the tension.
I got my harness on and very slowly made my way out, now daylight is creeping in, I want to go check and see if anything is still on there, I doubt it very much, but hey you never know.
Well nope it's not there anymore, which is sad, I was hoping for something different than a Mahi Mahi.
Once again I caught another Mahi Mahi, on the hand line, of coarse this happened just when I went to lay down for a sleep, typical, so I just left it to wear itself out.
After I woke up, I was not in the best of moods, as we have had to change coarse some, and we have been rocking and rolling so bad all day, it has not let up at all, that and one angry ocean, does not make a great combination.
I hate it when it's like this, you can not do anything but hold on tight.
I decided to pull the fish in, and let it go, so that's one lucky fish.
And here I sit its 9.30pm and I'm on first watch once again, watching a few scary clouds on the radar, and hoping they turn into nothing.
We have seen three ships in the radar today, which was exciting, but only one got close enough to see, it was a huge car carrier. 
Well tomorrow is another day.
Diary Photos
9th Sep 2013 Image
Just me reeling them in.
---
9th Sep 2013 Image
No Description
---