Sailng on Windwanderer.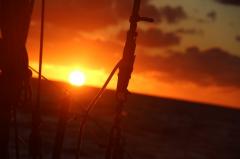 12th Sep 2013
Thursday 12th September 2013
Thursday 12 September 2013
Day 25
08°40'S. 129°20'W.
565nm to go
6am
We still have nice seas, man if it only stays like this the rest of the trip I will be so so happy.
Once again we are having problems with sail mail.
Apparently you are only allowed 90 minutes air time a week.
We have gone way over that, and it sent us a message a few days back, saying we need to limit our usage.
So I did by only going on twice a day.
Apparently that's not enough and now they won't send any more messages, only receive.
This is a worry as the last message I sent to the family, was that we were having rough seas and now I can't send anymore.
I looked up there manual...seems like all we do hey is have our heads buried in one manual or another.
They say if you send an email to them they might give you more time, but only for an emergency, crossing oceans is not a emergency in their books so The Captain is going to nut out a email and hope they will give us some extra time, if we behave ourselves.
Well it looks like we don't need to send that email after all, as they have let us back on, we are going to be very careful and only check twice a day, from now on.
The generator is back working again another great deed by none other than the resident Mr fix it man, he is very chuffed with himself...hahah
And the water maker is slowly making water once again, this is a huge relief.
As for me I have finally got the boat back in order, and she is sparkling again, pity I'm not.
Well tomorrow is anther day.
Diary Photos
12th Sep 2013 Image
No Description
---