Sailng on Windwanderer.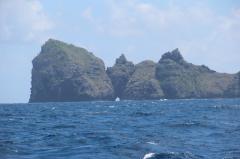 17th Sep 2013
Tuesday 17th September 2013
Tuesday 17th September 2013
Day 30
09°22'S. 138°40'W. 
80nm to go sort of.
7am
Well there is great excitement on this here vessel, we are getting close, in fact so close that we actually have slowed the boat down.
Yeah I know it's hard to believe, but we don't want to reach the island that we are going to in the dark.
We still have about 20 hours to go, so we are just going to sail this way and that, inching closer the whole time.
But wait in about 15nm or 4 hours, we will see the first of The Marquises islands.....yay yay yay 
The first land sighting in over 30 days...OMG I'm so excited. :-)
There are ten islands of the Marquises, and the one that we are going to is the biggest, this one is called Nuka Hiva.
So finally we will have something different to look at, other than ocean, these are all volcanic islands, so they rise up big out of the ocean, which should be easy to see.
As for the ocean at the moment who cares...haha
No it's still very rolly and you really have to hold on, but hey we are gonna see land, yay yay yay. :-)  
AND WE CAN SEE IT, LAND AHOY.
its huge staring at us coming right out of the ocean.
This one is called Fatu Huka.
It was so funny we have been chatting away about all the islands, and making sure we don't hit any, and then saying we should be able to see it as its 1000 ft high, and we both look up and there it is.
Well there is some cheering going on I can tell you. :-)
30 days at seas, looking at nothing but water and now we see land OMG, this is great.
We are like little school kids, here, you would swear we have never seen land before in our lives...haha
Trust me when you have been this long looking at nothing but water, it sure feels like it.
So this little island, I should just call it a massive rock cause that's all it really is, you can really see that it was or still is a Volcano, well I guess it will always be a Volcano, just active or not, well this was on are starboard side, and on our Port side, is another huge island, you can just make it out, this one is called Hiva Oa.
Then sadly they went out of site, god damit, nothing but water again, :-(
But in all fairness it is dark...haha
No they actually were out of site before it got dark. 
Seeing land started a hive of activity, to get this ship of ours, back into shipshape...haha
With a massive tidy up, from top to bottom, we are so ready now, so come on bring on all the officials so we can check in, they can inspect the boat and we can plant our feet on something solid.
I can't wait.
Well tomorrow is another day.
Diary Photos
17th Sep 2013 Image
Fatu Huka
---
17th Sep 2013 Image
Fatu Huka
---
17th Sep 2013 Image
Fatu Huka, just a big rock.
---