Sailng on Windwanderer.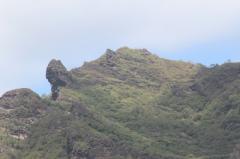 18th Sep 2013
Wednesday 18th September 2013
Wednesday 18th September 2013
Day 31
09°01'S. 139°49'W. 
17nm to go to the entrance of the bay....yay yay yay
3.30am
Are we there yet?
Hahaha, so so close, about 4hours to go, man it's going so slow.
We have passed in the night two more islands, one called Ua Huka, to our starboard and one called Ua Pou to our port.
These we could not see in the dark, but the Captain said he could make out a beacon light off one of them, on his watch.
And here I sit on my watch,having no problems at all staying awake, it's just all too exciting, with some nervous energy thrown in.
It will not be long until I see land again, but am a bit worried as its dark and The Captain left me with orders to not run into any... :-/
While I wait, I thought I would just jot down the things that have broken along the way and man we have had some stuff let us down.
The most important, we will try and get fixed here, if possible, but we don't plan to stay long, as Tahiti is the place we need to get too, so we can get the rest fixed, another 6-7 day ocean sail...:-(
1. So the wind Nav thingy is still not working.
2. The speed through water thingy has stopped Woking.
3.  The AIS still needs looking into, although we have it working, but it keeps flashing an error message.
4. The Spinnaker pole end broke off, but now repaired.
5. The water maker is playing up.
6. The generator stopped working, but has been repaired.
7. The kill switch stopped working on the engine, but now has decided to start working again.
8. My favourite Blender, that makes the best smoothies, got thrown on the floor, and refused to play anymore, has now been repaired, and working great again, just looking a bit worse for wear.
9. The many leaks have been repaired except for a few.
10.  We noticed a knocking noise near the back of the boat, a few weeks ago, which after some looking around by The Captain, uncovered that there is what they call a stuffing box, for the rudder, and it looks like the stuffing is stuffed...haha, ( just needs more packed in )
11. The staysail, has a tear in it, not real bad but needs fixing.
Now all the rest happen with the horrible day of strong winds and big sea.
12. We lost the new gas bottle, The Captain is still crying over this.
 I lost all my bait, I'm crying harder over this.
13.  A thingy that holds down ropes for the mainsail, broke, The Captain has fixed this.
14.  The Yankie sail, trim is coming apart.
15. The  Yankie furling tube has come apart.
16. yesterday we noticed a rip in that sail as well, this has to be repaired before we go anywhere else.
17. One of the lifelines broke, the Captain has repaired it, for now.
18. The day before I found half a split pin on deck, we found out it broke away from the gooseneck of the main boom, this one could of been very serious, as a loose swinging boom would not be fun, it's tied in place and will be repaired before we leave. 
So I think that's about it at the moment, I sure hope so.
And we are coming into the bay as I type it's 9.30am, man I can't wait to go ashore.
So it's taking us 31 days and traveled just over 3700nm, or 7400klm of nothing but water.
To date we have done just over 9000nm which in Klm is 18,000 man just think about that traveling 18,000 Klm across water, it does my head in and we still have a long way to get home yet.
And we are here feet firmly on land...:-)
Well tomorrow is another day.
Diary Photos
18th Sep 2013 Image
A Tortoise.
---
18th Sep 2013 Image
A lemur
---
18th Sep 2013 Image
We may just have been at sea too long, but what you think? The Cadbury Gorilla.
---
18th Sep 2013 Image
Nuka Hiva first view.
---
18th Sep 2013 Image
The quarantine flag going up.
---