Next adventure Scandinavia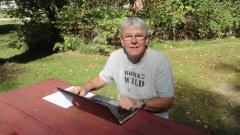 25th Sep 2013
Hello from Mark
For all of you, who might not know me yet: My name is Mark, I come from Seltisberg in Switzerland and Hedy and Peter are valued friends of mine since many years. For the third time after Florida and California, I have the privilege again to spend some days with the two of them "on the road", this time to experience the "Indian Summer". Well, of course I have to do some work to gain this privilege and therefore it's not "Hedy and Peter goes West" anymore, but "Hedy, Peter and Mark go New England" for the next 10 days and I will gladly report my impressions to you on this page the way I experience them. Right at the beginning, please excuse my English and especially all my grammatical mistakes. Swiss German is still a bit easier for me to speak and write!
Für diejenigen, die mich noch nicht kennen: Ich heisse Mark, komme aus Seltisberg in der Schweiz und bin schon seit Jahrzehnten mit Hedy und Peter befreundet. Zum dritten Mal nach Florida und Kalifornien darf ich nun ein paar Tage mit den beiden "on the road" verbringen, diesmal um den "Indian Summer" zu erleben. Natürlich muss ich dieses Privileg abarbeiten und daher heisst es für rund 10 Tage nicht mehr "Hedy and Peter goes West", sondern "Hedy, Peter and Mark go New England" und ich darf Euch an dieser Stelle einige Eindrücke aus meiner Sicht schildern.
After the usual bustle before leaving home I have had a nice and quiet flight to Boston with Swiss Airlines yesterday and after about 8 hours I arrived a little bit ahead of schedule, which proved to be a enormous advantage because two other wide bodies landed just after me and therefore I could walk through immigration and customs within no time, which I had never before experienced on my many previous visits to the USA. My cousin Bob Lemons picked me up ant the airport and after a ½ hour drive I was very warmly welcomed at his home in Andover.
Nach dem üblichen Abreise-Gstürm habe ich gestern einen angenehmen Swiss-Flug nach Boston erlebt, wo ich nach knapp 8 Stunden etwas zu früh angekommen bin, was sich als Vorteil erwiesen hat, da 2 weitere Grossraum-Jets erst direkt nach mir gelandet sind und ich dadurch wie durch ein Wunder praktisch durch die Immigration und Gepäckausgabe spazieren konnte. Das ist mir so vorher bei x Reisen nach den USA noch nie passiert. Mein Cousin Bob Lemons hat mich am Flughafen abgeholt und ½ Stunde später war grosse Begrüssung in seinem Heim in Andover.
Today at noon Bob drives me to the RV-Rental Station in Tyngsborough were I pick up my little Camper. Since Bob made all rental arrangements for me directly with the company (everything was sold out since months from Switzerland!), I once again am a bit ahead of my schedule and take the opportunity to do some first shopping of the essentials, till Hedy and Peter also arrive in Tyngsborough and after a big hug we immediately transfer to our first campground in Salisbury on the boarder to New Hampshire. In the evening, we are invited to Robin and Bob's home in Andover for a sumptuous dinner "New England Style" with a huge roast from the oven, mashed potatoes and many more tasty side dishes.
Heute gegen Mittag bringt mich Bob zur RV-Vermietstation nach Tyngsborough, wo ich mein Camperli übernehme. Da Bob mir den RV direkt in den USA reserviert hat (aus der Schweiz war bereits Monate vorher bei keiner Vermietungsgesellschaft mehr etwas zu bekommen!), bin ich sogar etwas früh dran und erledige die ersten Einkäufe, bis auch Hedy und Peter in Tyngsborough eintreffen und wir nach herzlicher Begrüssung sogleich an unseren ersten Standort nach Salisbury an der Grenze zu New Hampshire dislozieren. Abends sind wir bei Robin und Bob in Andover zu einem wunderbaren Essen "New England Style" mit einem riesigen Roast aus dem Ofen sowie Mashed Potatoes und umfangreichen Beilagen eingeladen.
Diary Photos
25th Sep 2013 Salisbury, Mark an der Arbeit
---
---
25th Sep 2013 Andover MA, bei Bob und Robin
---
25th Sep 2013 Andover MA, bei Bob und Robin
---
25th Sep 2013 Andover MA, bei Bob und Robin
---