Next adventure Scandinavia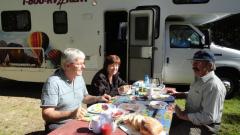 29th Sep 2013
North Conway NH
After our mountain climbing experience from yesterday, we decide to take it easy today and do a relaxed visit to a huge Outlet shopping Mall. Of course this is Hedy's world and Peter immediately get's outfitted new from top to bottom. During this process, Peter receives two very nice new shirts, both labeled with his standard dress size "M" for medium. Back at the campground, the surprise is quite big: One of the shirts fits perfectly, but the other – although clearly marked with "M" – is at least size XXL! Well, the only solution left is driving back to the Mall and exchange. The seller of course at first denies the possibility of a mistake and only after comparing with other shirts he can be convinced of the mistake!
In the evening I get spoiled by Hedy and Peter's world famous Roastbeef, grilled to perfection over the open campfire and served with Hedy's homemade Potato-Gratin. A culinary dream I already had the pleasure to enjoy on my trips with them in former years!
Heute nehmen wir es nach der gestrigen "Bergtour" etwas gemütlicher und erholen uns bei einem Einkaufsbummel durch ein riesiges Outlet Center. Hier ist natürlich Hedy in ihrem Element und Peter wird sogleich von Kopf bis Fuss neu eingekleidet. Allerdings sind die Massangaben offenbar mit Vorsicht zu geniessen. So bekommt Peter zwei sehr schöne Hemden, beide klar und deutlich in seiner Standard-Grüsse "M" für medium angeschrieben. Beim anprobieren auf dem Campground ist die Ueberraschung gross: Das eine Hemd passt wie angegossen, dass andere aber – obwohl ebenfalls klar mit "M" ettiketiert dürfte eher Grösse XXL aufweisen! Da hilft nur eines: zurück zum Outlet und umtauschen. Dabei schliesst der Verkäufer anfänglich natürlich jeglichen Fehler aus und lässt sich erst durch Anprobe vor Ort vom Gegenteil überzeugen!
Am Abend werde ich von Hedy und Peter mit ihrem weltberühmten Rindsfilet am Stück, gebraten über dem offenen Lagerfeuer und serviert mit feinstem Kartoffelgratin verwöhnt. Ein kulinarischer Traum, den ich wie schon anlässlich meiner vorjährigen Touren mit den beiden geniessen darf!
Diary Photos
29th Sep 2013 North Conway NH, Saco River Camping Area
---
29th Sep 2013 North Conway NH, Saco River Camping Area
---
29th Sep 2013 North Conway NH, Railway Station
---
29th Sep 2013 North Conway NH, Ben & Jerry's Ice Cream
---
29th Sep 2013 North Conway NH, Saco River Camping Area
---
29th Sep 2013 North Conway NH, Saco River Camping Area
---