Sailng on Windwanderer.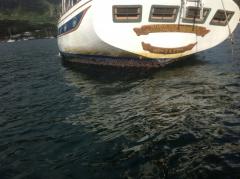 20th Sep 2013
Friday 20th September 2013
Friday 20th September 2013
Well the day started off as per usual got a few things done on board than, into the dingy we carefully climb, have I mentioned how rolly this anchorage is?
Man it's rough, nothing like the ocean of coarse but still very very rolly.
When we climbed into the dingy the first day here, we were really shocked to see, how much growth is on the bottom of the boat, as The Captain said there is enough shell fish on here, to make shell chowder for the whole island, for weeks....haha
Not sure if they eat this kinda shell fish (barnacles) but you never know, they used to be eat people, yeap they were one of the last islands to stop, having human Potluck...hahaha
Actually there was a guy a few years back that was supposedly taken pig shooting and was eaten, so The Captain read in our cruisers guide, so no pig shooting for us.
You know you look around and you can easily imagine the cannibals still being out there, it's such rugged, mountains all around.
So we have the rolly seas to contend with, Cannibals, and Sharks, yeap that's another one the book warned us about.
I actually asked one of the guys here if it was safe to swim, and he said sure, I said what about sharks, he said, yeah there are a lot here but they are harmless, he also said although I would not swim, when they bring their catch in for the day and clean it, right near where we were standing. (I very carefully backed away from the edge).
There was a lot of dolphins around as we were sailing into the bay the other day, and I swear I saw a shark fin go through the water, guess I was right.
So now we get to shore and have to climb up a very steep ladder, with a death grip on it I tell you.
We still have a fair amount of Internet stuff to sort out as the connection is really slow, so it's taking its time.
While The Captain is busy I decide to go check out some of the local supermarkets, they actually have three here, but they are all pretty much the same, as they are in all the third world countries, just very small Chinese owned, and all in French this time.
So I go in armed with a list, trying to work out what it all is, some things are in English as well, but the prices are not.
Any way I get a dozen or so things, and go to pay for it and I don't have enough money, when they say that's 9,000 thanks you almost have a heart attack, but it ends up being $90.00 US dollars, well I only had about $60.00, so totally embarrassed I hand some stuff back and walk out with less than10 items, for $60 bucks are they crazy, I actually felt sick that it cost so much, we will not be getting a huge amount of supplies here I tell you.
But as I strolled back the Klm or so and just took in the surroundings, and looked out over the water and saw Wind Wanderer, floating there surrounded by huge mountains, I felt so very lucky to be living the life we are living, just wish I'd had my camera with me.
Then we went back to the boat to meet up with a guy who was taking down are sails to get repaired, he also, did a few other odd bits and pieces as well, and tomorrow was coming back to do more and clean the bottom of the boat for us.
Sean another Aussie guy came over for happy hour drinks and a nice night was had by all.
Well tomorrow is another day.
Diary Photos
20th Sep 2013 Image
The lost Y off Sydney, she is going to need a lot of TLC when we get home.
---
20th Sep 2013 No Title
Barnacles on the boat after 31 days at sea.
---