Sailng on Windwanderer.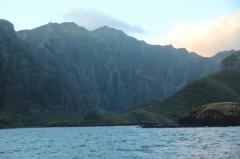 22nd Sep 2013
Sunday 22nd September 2013
Sunday 22nd September 2013
First off I want to wish my sister Myree a very Happy Birthday, I hope you have a great day, lots of love. xxx
Well today is the day we leave once again.
We have so much to do its crazy, and it's pouring rain, damn it.
I wanted to go have a last look around and take some pics, that's not gonna happen.
So we worked flat out getting everything ready, closing up, packing away, tying down, rearranging and getting this ship of ours sea worthy again.
It took all day, but we managed to up the anchor, with several attempts as the chain is still piling up in the locker, which results in a mountain of chain and no room for anymore, so The Captain, as to go and knock down the mountain and then race back up and try again, he is so not happy about this I can tell you.
But as we motor out of the bay, I kinda feel a bit sad, I would of loved to stay longer and explore this place a bit more, but Tahiti is calling us.
And out into the wild blue ocean we once again return.
Well tomorrow is another day.
Diary Photos
22nd Sep 2013 Image
A little bay called Daniels Bay.
---