Sailng on Windwanderer.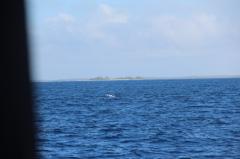 27th Sep 2013
Friday 27th September 2013
Friday 27th September 2013
Day 5
13°57'S. 146°23'W 286nm to go
4am
And here I sit once again, I have to say, no matter what I do I can't shake off this tired feeling, maybe it's that we have just not caught up from our big hop yet.
I have an eagle eye the radar, as the first lot of islands are about 20 odd nm away, well that's whats on the charts at least, I'm a bit worried as we know from previous charts some islands just do not show up on them at all.
Well I have slept on and off almost all day, do I feel any better? Not really, well maybe a little.
We saw our first boat in five days yesterday, was a bit of excitement, it was not a huge boat, more like an island ferry or maybe a fishing boat.
I have to say in The Captains words, a good track record at the moment with my cooking.
I made a fish pie the other day, which was really nice, and we dined on it for several days.
Then some more bread, I had not made any for awhile, so was a bit worried I'd lost my touch, but nope, one of my best so far.
Then yesterday was the Banana cake/bread, man this was so good.
So tonight I made pizza, yeah I surprised The Captain and myself, as he said how can you find any ingredients for pizza? Well we had some canned ham, can Chicken (that does not taste or look like Chicken) Avocado and cheese with a few herbs thrown in and man they tasted good and finally some choc chip cookies, these as well are good.
So you can see I'm on a roll with the cooking but not so the fishing, still nothing at all, not even a bite.
Well tomorrow is another day.
Diary Photos
27th Sep 2013 Image
The islands in the middle of the ocean
---