Sailng on Windwanderer.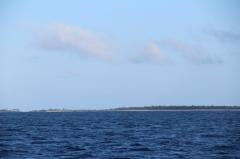 28th Sep 2013
Saturday 28th September 2013
Saturday 28th September 2013
Day 6
15°16'S. 147°07'W 196nm to go
7am
Well The Captain let me sleep for 5 hours and man do I feel good.
Well we can see land, yay
We have gone past a few islands already but could not see them until now.
This looks just like a line of palm trees, crazy and this one is actually has people living on it, only about 60 odd but still it seems crazy.
We have not got real close as its way too shallow, but we can still make them out on the Horizon
Well we can see beach and palm trees. And islands a lot of islands, they are in a long line going for miles, we have one more to pass, but this one we may not see, as it should be about 20odd nm away.
We are now clear of them all, we a huge sigh of relief and on we go.
We have had such a beautiful day, very light winds, sun shining and calm seas, it actually hot. As for fish, nothing :-( not even a hint of one.
But the calm seas, and sun has made up for it, we would have to say this has been our best day on the ocean so far.
Well tomorrow is anther day.
Diary Photos
28th Sep 2013 Image
More islands
---