sailingfastforward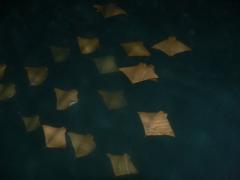 16th Feb 2007 - 1st Mar 2007




The incredible GALAPAGOS!



08 17 96N; 078 54 17W

We upped anchor on 7 February and headed for San Jose, Las Perlas – 56 nm away – not much wind, but a perfect day otherwise!! We saw 2 whales; dolphin; rays jumping out of the water, and we even caught some fish! Other than a couple of local fishing boats, only one other yacht shared the massive anchorage with us, and when sunset came it delivered the most tranquil of evenings… a very welcome change from the rolly and noisy anchorage at La Playita in Panama!! The beaches were just beautiful long stretches of fine white powder… some offered lots of beautiful shells and others not! Lots of pelicans, frigates and boobies about to provide light entertainment! The handful of days we spent "recharging" there was exactly what we needed after the humdrum of Panama City… pity about the cold green murky water (22C) though!

On Sunday 11th, we set off on the 879nm journey SW to the famous Galapagos Islands. What is the powerful draw to these mystical islands? Did we perhaps all O.D. on David Attenborough's tales of what Charles Darwin discovered in the 1830's? Or, being "cruisers" are we just naturally drawn to – and then set sail for - "all natural wonders"? Perhaps. But what about the 60,000 plus visitors that fly in every year? Mmmm. Or is it because the Galapagos is a treasure chest of endemic species – plants and animals found nowhere else in the world… and we've all come to see as much as possible!! Whatever our individual reasons are, we've all traveled thousands of miles to admire a vast cross-section of wildlife co-exisiting on land, and in an underwater paradise. Can't wait! And neither could Russel! He was flying in to Isla Baltra on the 18th from a freezing cold London to enjoy a well deserved holiday with us.

We had good weather to start with, only to have the wind die down by nightfall the following day. So we were either sailing and/or motoring! By the fourth day, we had wind – but it was on the nose! Luckily we had current with us as well as flat seas. We also had quite a few rain squalls came through at night… our last night at sea was a really fun one: it's a conspiracy you see - tiny squalls get together and gang up on you – within minutes the squall is the size of Europe and you simply can't dodge it!! Eeek! You usually don't know what's "in them", but you prepare for the worst – usually a lot of wind and driving rain. Sometimes only one or other; and/or very little of it. This one was packed with the former and lasted for hours!! Couldn't wait for sunrise as nothing is ever half as bad in the daylight! Needless to say we looked and felt terrible as no sleep was had! All in all it was a good trip… thought we'd catch more fish though!

00 44 76S; 090 18 45W
The first sighting of land after being at sea (esp for 5 days!) always creates a fluttering of excitement in your tummy!! WOW! Yip, for me it's always WOW! We've made it! Again. The Islands looked very far apart and I'm glad we'd decided to pull into Puerto Ayora on Isla Santa Cruz as it would've taken another day to get to either Isla Isabela or Isla San Cristobal. It was a grey old day with very black threatening clouds gathering over the highlands of Santa Cruz. Rain again. Puerto Ayora is a very busy anchorage – lots of big white double-decker tourist boats were packed into the eastern corner of the anchorage, not to mention big catamarans, trimarans, small cruise ships, stink pots/gin palaces – most anchored fore and aft (it's not a very protected anchorage and we'd heard it can be very rolly – hence our latest acquisition: a stern anchor!). We picked a spot in 4 meters of relatively clear water, had a sandwich and then Ken went ashore to pay our dues.

There are a lot of conflicting stories surrounding the cost of "cruising on yachts" in the Galapagos; and apparently the Ecuadorian Authorities change their minds rather regularly, and costs can vary from island to island. We were pretty sure we would not be allowed to cruise the marine reserve unless we paid a guide $200 a day (excluding our daily fee and cruising permit!!)… damn right we wouldn't! Here's the lowdown: Whichever island you've cleared into is the island the yacht HAS TO stay at – provided you've obtained a cruising permit. You are free to roam around. To obtain a cruising permit (which would enable you to anchor in 4 other public anchorages) you need to, preferably, arrange this a month in advance from Panama (provided you're going to Ecuador of course because all the paperwork is organised in Quito).... a Cruising permit for 2 people costs $210, for 4: $260 - and if you're on a big gin palace it can cost $10,000! Johnny (a local agent and tour guide) informed that he could arrange a permit for us, but it could take up to 2 weeks. It would've been nice to have been able to move around, but we were assured that there was enough to keep us busy with on Santa Cruz and surrounds! Decided to go this route as our intentions were to leave the Galapagos a day or two after Russel had flown back on the 27th.

Once you're there, be prepared to fork out money to do tours. You've come all this way, so shorten those pockets or lengthen those arms! To be fair, the tours are not that pricey (between $25 and $73, mostly 8-9 hour tours including lunch & English speaking guide), and are very interesting. All tour operators charge the same fees. There are also bicycles and scooters for rent. The only free "excursions" are to Tortuga Bay and the Darwin Centre (both nice long walks in the blazing heat!). We were supposed to pay the National Park fee of $100 pp (a once off fee) before doing any tours (as you'd then be entering the National Park)… but after booking our first tour no one requested a receipt, so we decided to just keep quite until asked…. We assumed the tour operators automatically assume that because you're a gringo, you've arrived by plane and therefore have paid your $100 at the airport. Cool! We were up $200!

Our "Let's Go" guide on board got us fired up after reading all there was to do and see that we were literally bursting with anticipation and expectation!! I couldn't wait to get ashore to lay my hands on more literature and maps! The archipelago was formed by volcanic eruptions about 5 million years ago, and are among the most active in the world. Santa Cruz was colonized in the late 1920's by a group of Norwegians, their dreams of canning cod fish was not accomplished and some of them stayed in the highlands and turned to agriculture for a living. UNESCO declared the Galapagos Islands a World Heritage Site on 28 July 1979 and a Marine Reserve in 1998.

One of the fascinating things about the Galapagos Islands is that they straddle the equator at the confluence of several warm and cold currents. This creates a unique microclimate, and even more interesting, each volcanic island has distinct vegetation zones (Santa Cruz has 7) at different altitudes, for eg. the coast is hot and arid – cacti grow next to the sea (!) amongst the lava rock – then as you move further up it becomes more hot and humid and changes from brown to bright green (looks quite fake at times!), soon you'll be surrounded by citrus and guava trees and dense bush! The highest point is only 2834 feet above sea level.

This brings us to our first tour… it was Ken's birthday and Rus's first day out, so we thought we'd ease into things. Giant tortoise spotting on horseback in the Highlands, only $25. Our Spanish only speaking guide/farmhand only spotted 5. Our mares, with foals in tow were too eager to return home – hence neither Rus or I managed to get our horses turned round to see the very rare Vermillion Flycatcher bird. Well spotted Ken! Silently, we hoped our afternoon tour was to be more fulfilling!

Johnny was our guide that afternoon, and we were accompanied by another family of 5 (also yachties, ex South Africans with their American offspring). Small world! Anyway, so off we went into the National Park and traipsed into the bush where we soon spotted our first giant tortoise – up close and personal. He was a magnificent creature perhaps 140 years old. When they are really old their shells are very smooth. Then we spotted another two wallowing in green muck… could also get up close – they were not phased by us at all (and there were busloads of people!). Then we spotted another munching on pawpaw and guava, and yet another and another. 100 photos later it was "Oh, not another one!!!". We only saw males as the females had already moved to the lowlands to lay their eggs.

Back into the 4x4, and off to the Lava Tunnels. Descending the wooden staircase into the cool tunnel was heaven, such a relief from the scorching sun! We couldn't get over the diameter of the tunnel – it was huge! They are the remains of ancient magma flow that formed the Galapagos. The outer crust of these molten streams hardened as they cooled, but the liquid magma within continued flowing. When the flowing stopped, these enormous hollow tubes were left behind. We walked for about 600m – they'd very kindly supplied a string of lights along the wall enabling you to see the very sharp loose lava rocks that you're carefully stepping over… the magma carved designs were beautiful and so was the changing colour caused by oxidation. Fascinating indeed! Then it was off to "Los Gemelos" (the twin craters) formed by huge gas bubbles! Managed to spot some finches… although we found them to be very elusive… heard but hardly seen! Interesting flora talk to!! All this for only $25!

The little town of Santa Cruz is one of the cleanest we've seen. Not many locals have cars, other than the standard white 4x4's used as taxi's, everyone appears to have either a bicycle or a scooter or both – and the more people you can fit on them, the more power to you!!! The island even has recycling bins – which is exceptional for a 3rd world country. There is one main road that runs along the beachfront, and another that runs out of town. It's very touristy and there are loads of dive operators; tour operators and shops selling Galapagos junk and of course t/shirts – my favourite was (and no I don't bat for the other team) "I love boobies" and there were 2 blue webbed feet printed on the chest area of the T/shirt. Very cute indeed! Also to be found were internet cafes, galleries, jewelery shops, restaurants and the odd bar. Not forgetting the very interesting art gallery located in the WWF building on the far side of town towards the Darwin Centre. It housed beautiful 1-off woven carpets made in Peru (no feet allowed for sure!); intricately carved calabashes/gordes; local art from mainland Ecuador and Peru; metal/wood sculptures of all the local animals; gorgeous pieces of silver jewelery; silver sculptures. Amazing!! And for the yachties… there are also very well equipped hardware stores; a good supermarket stocking everything you can imagine; and diesel is also delivered to the boat.

In town everything closes from 12-3 (!!)… and the streets, particularly the beachfront area just comes alive in the evenings – there are children playing everywhere and the adults resume their volleyball games til late at night. A very common sight is just about everybody walking around with a $0.50 soft serve ice cream from Hernan's!! Aaah Hernan's – the best basil and garlic fish dish I've ever had! We went there for Ken's birthday – the waiter got the order right, but the chef prepared 2 meals instead of 3!! Shame I felt so bad! Manager came and apologized and Ken got a free Caiparina! Nice evening!

We took it easy the following morning, and set off, just after 1:30pm, for the 2.5km walk along the paved path to Tortuga Bay. There were supposed to be loads of finches about, but I was convinced they were playing a nature CD as we could only HEAR the birds – eventually we spotted a few black ones (but they are so tiny!!). We did manage to see a few grey lava lizard on the lava rock next to the path, they're also tiny little things and the females have very eye-catching red/orange throats.

I'd also forgotten how far 2.5km's was (or was it the anticipation?)… but seeing the turquoise sea lying ahead of us put the spring back into my step for sure!! It had been a long time since we'd seen water that postcard blue and sand that white! It was softer than powder! We were told not to swim at that beach, but to continue along past the rocks, hit a right to the lagoon and swim there. But, what did we see to the left – LOADS of people swimming and surfing (apparently there's very good surfing here). Whatever! Then, as we looked to the right we spotted them…. down on the rocks…. marine iguanas!! The only aquatic iguana in the world. We made a b-line! They must've been laughing at us crazy photo-taking gringo's cause it certainly looked like they had a smirk on their little pre-historic faces!!! There they were, posing on the rocks, some pretending we weren't there by not even turning their heads and others probably wishing we'd just get a move on! I was fascinated and couldn't get enough photos (and these were only the first 5 we'd seen!!). We had to get a move as the park closes at 6pm, so we set off down the beach, and soon we spotted iguanas all over the beach (looks so weird though, so out of place!!)… some were just parking, spread-eagled, always facing the sun though – others doing their funny little walk to find a better spot, and others just running away from everyone on the beach!

The lagoon was a welcome relief, but not too pleasant as the water was murky and there were huge biting horse-flies!! Not nice! So we decided to head back - but explore the section to the left that we'd missed by coming to the lagoon. Gee, nothing was to prepare us for what we saw!! HUNDREDS of marine iguanas all over the show!! You literally had to watch where you were walking so as not to step on them! We were spoilt for choice!! They also seemed to enjoy lying all over each other – very cute! Every so often one sneezed – weren't sure if it was intended to scare, if so – it failed miserably! We heard later that they're actually just getting rid of salt in their nasal passages!! We also noticed some were moulting and others had a strange blue colour on their bodies/faces/lips… apparently they rub themselves against the rocks thereby picking up this colour : it's a "vanity" thing really, part of the mating ritual is to try and look your best - I mean with so many around you have to do something out of the ordinary to stand out – even if it means having blue lips!! Anyway, so there they all were – sunning themselves and recharging their batteries after gorging on green algae. Yum! I was quite surprised at how small they were (only get up to about 1.2m in length, that includes their ling tail) – then again, being vegetarian, I suppose mother nature couldn't provide enough algae for them to have grown any bigger. They're an interesting bunch too – they can swim down to 20 meters, stay underwater for up to an hour, and can bring their heart rate down to as little as 2-3 beats per minute.

On our way back up the beach Russel spotted manta rays in the water right up near the beach! Then he spotted something biggerÂ… so he shot off into the water to investigate, Ken hot on his heelsÂ… there were big tarpon on the prowl!

Russel is obsessed with fishing. He knows everything there is and more. So a holiday on the yacht normally equates to loads of fishing. The Galapagos happenened to be marlin territory too. Sadly, there's a "no fishing" policy within the Galapagos – except of course for one or two areas that the locals can fish in (!!) – the only option is to go to the "border" which is about 40nm away. Mmmm. Not good. The worst thing was, there were loads of fish around the boat and he could do nothing about it!! Shame, it must've been killing him!!! But, never fear! They spotted 2 sports fishing boats, only to be told they were "being repaired". Great. Johnny was a local and an good organizer, let's try our luck. Lo and behold – he managed to get a local to take them out for the day. So off they went – very excited - at 6:30am. I watched them disappear into the horizon, apparently they went on for hours and hours - all over the show - and caught nothing the whole day! What a disappointment! Eventually, on their way back – in the Marine Park, not far from the anchorage and still trolling their lines, they had a bite!! A nice sized Cero Mackerel! They played paper, scissors, rock to see who would reel the first one in and it was Ken (!!) - who insisted that Rus do it because we have ample opportunity to land fish. But NO, fair was fair - he took the photos!! It was absolutely delicious on the BBQ!

Our next outing was a very hot walk to the Charles Darwin Research Centre. To be honest, I really expected a bit more and I found it all rather cruel after having seen the giant tortoises in the wild wallowing in big pools of green water and sleeping on grass patches, here they had to fight their way around sharp lava rocks – grass unheard of – and the shallowest of pools to wade in! Shocking! The island makes such a lot of money from tourism, you'd think that some of it would be pumped back into the system instead of it all going back to the mainland. At least they do do some good – like protecting the vulnerable hatchlings and then releasing them later into the wild…

Back on board it was time for sundowners and watching the antics of the wildlife around us… aaah the pelicans – we never tire of them – flying one behind the other, just centimeters above the water, and then the front one flaps his wings, and one by one they all flap their wings… one goes up and the all go up… like a Mexican wave! We won't mention how clumsy they look when they dive into the water to catch fish… suddenly there's a huge splash and in a second this great big bird pops out of the water, often holding his head down, beak closed – because more often than not he has a cheeky gull sitting on his head trying to steel the food out of his beak!!! Then there's the frigate birds, always cruising overhead casting B-52 bomber shadows… just waiting for some poor bird (normally a boobie) to delicately pick an unsuspecting sardine out of the water, then swallow it - but the frigate's are way too fast and before the boobie even knows what's hit it, the frigate is all over him trying get him to drop the sardine so that he can eat it! Now that's cheeky! Or, out of nowhere a torpedo shoots into the water at one heck of a speed… seconds later it pops up… aaahh only a boobie who's spotted something delicious from like 80ft up, wings pinned back as it hurtles in perfect form toward his dinner – hardly a splash!! The last act of the day… the seals. They are truly something else! As cute as buttons… they'll swim past the boat – and you'll hear them snorting – often they'll have their little heads out of the water looking at you (and you can just about see a naughty little grin on their faces!) as they glide effortlessly by through the water, then just like that they'll disappear and reappear on the other side of the boat! So cute! Russel and I were dying for one to climb onto the back of Fast Forward (just to take a pick and then shooo him off of course!!), but that never happened. They love to laze about on the local boats like big fat slugs – and they do make a huge mess, you can generally smell which boats they've been on – and they knew they shouldn't be there, as they often jumped off when a local came past and shouted at them, but they'd always take the chance!! And that they do too… they managed to climb onto a friends catamaran (he'd already cling-wrapped the entrance making it "seal proof", clearly that was not enough… early one morning they woke up to find a seal peering down at them whilst they were lying in bed in the forepeak!!!! Needless to say they spent the better part of the day cleaning up the mess… must've been a female in heat too. Nasty. Very nasty!

Russel had booked a dive for the following day, and I was praying that he'd see everything that the guy who sold him the tour had said he would see. In fact, I was just praying for the water to be clear enough for him to see anything!!! The main attraction was hammerheads, sharks, rays, turtles and reef fish (in whatever order you choose!). So off he went at 7am. Ken and I had a Bay Tour booked for that afternoon (also only $25) – they picked us up at 2pm, and we headed off to the little island of La Loberia to swim with the sea lions and see some tropical fish. The baby sea lions were adorable with their big Smartie eyes! Be careful of big daddy though, he can be very aggressive, and can weigh in at 250kgs!! The Shark Channel was next – saw our first blue footed boobie perched on the rocks! – The high walls of the channel are crowned with tall cacti, quite a sight! We had the opportunity to don our mask and snorkels and see the white tipped shark (thankfully they were resting on the sandy bottom, very similar to a nurse shark!) – apparently they like that spot because there is a constant flow of water, so they simply need to open their mouths to have the water flow through their gills thereby enabling them the breath without moving around! Fascinating!

Then it was off – overland this time – to see the marine iguanas and blue footed boobies. This is where we learnt the fascinating facts about the iguanas… we also managed to see 5 turtles surfing in the waves! The cacti "trees" are simply beautiful – not sure which species it is though, but the older it gets the thicker and more bark-like the stems become, this bark-like covering changes from brown to a gorgeous copper/orange colour. Very pretty! Got back to the boat just after 6pm! Was a great day! Russel had also been back for a couple of hours and couldn't wait to download his diving pics!! He had an AWESOME dive and wished he was staying a few more days to have another dive. And yes, he saw everything on his checklist!

Went ashore that evening to one of the local eateries called "William"… word has it that they make the best "coco lobster". Mmmm sounded great. So off we went, the road has local eateries on either side which are only open at night – the road is also closed off to cars as some restaurants have their chairs and tables in the road due to the "heat in the kitchen". Within minutes after being seated our food arrived, 3 tails and a huge mound of rice for $10! Judging by the speed, this meal is a speciality prepared in bulk! Heaven help the lobster community! It was good though, we particularly liked the hot aji sauce as an accompaniment!

Our last tour was to South Plazas and Carrion Point. Sea lions, land iguanas, blue footed boobies, swallow-tailed gulls… maybe more for only $68! Sounded great! A bus picked us up at the water taxi dock and we stopped at two hotels to pick up people, we had 22 in our group and 2 guides. We then traveled across the island to where the airport ferry is located… only we had a boat waiting to take us on the 1,5 hour trip to South Plazas island. En route we saw a big pod of pilot whales, and they came right up to the boat!! Also saw a few turtles, but no dolphins though! Soon after we set off we had a couple of frigate birds hovering around the boat, then more appeared, and then boobies as well – clearly they knew what was to come! Our lunch!! No, it's not what you think!!! Our lunch was a large fresh fish that was being hacked up into steaks, good idea that – we could all see the birds so close up, and obviously the birds couldn't wait for scraps to fall into the water!! They knew that boat that's for sure, because they disappeared soon after!

Upon entering the bay we could see hundreds of sea lions all along the shore – one of the biggest colonies in the Galapagos - could smell them too!! They dinghied us all ashore and we started with our land tour. The land iguanas are beautiful. They're also called prickly pear iguanas… are yellow in colour and look prickly – makes a change from the black marine iguanas. Are just as territorial though. Shade appeared to be first prize for them in that blazing heat – and there was not much of it either!. We learnt about the swallow-tailed gull, what a beautiful bird! The chick is white, so that the parents can see it – and the parents have a white dot on their face so that the chick knows where to locate the beak!! The red ring around their eyes helps with night vision! From up on the cliff, Ken spotted a Galapagos shark swimming in the clear shallows below, but it was too quick for us take a pic!! We got really good pics of a blue-footed boobie that had just landed on some rocks nearby. I was thrilled as I could get really close up with my 12x zoom!! Like the Scarlet Ibis, their blue feet look plastic… except with the Ibis – the whole bird looks plastic!!! Very pretty birds, very elegant looking, and apparently the older they get the bluer the feet are. Interesting! The heat was almost unbearable and we were starving… couldn't wait for the tour to be over! Eventually we made our way back to the dock where we were able to take last pics of a huge bull sea lion – they are such posers when they're not barking and protecting their territory! Not to mention the little ones… they just want to play and have fun in the water! Almost forgot to mention the most colourful of the Galapagos species….. the Sally Lightfoot Crabs – they start out life being pitch black, clearly to blend into the lava rock – then they become the most brilliant colours – bright red legs with red and orange bodies, and a splash of baby blue on their chest, with bright pink circles around their eyes…. Being offset by the black rock certainly makes for a fantastic photo!!

Back on board we headed up to the top deck and just sat and savoured the shade and the breeze! We set off not long after and enjoyed a delicious lunch of fish, rice and a local salad en route to Carrion Point – just round the corner from where we started out. Once there, we had the opportunity to snorkel and check out the tropical fish and try and find the white tipped sharks… no sharks, but Russel did spot a Manta Ray resting under a rock. The swim was really nice even though there was not much to see. Soon it was time to go – and we were quite eager to get back to the boat, but we still had a 50 minute bus ride back to the dock!! Being the only road out of the town, the drivers must know this road backwards!! They even hoot at the birds so as not to kill them! Russel dozed and we tried, but at least the time went by rather quickly! Got back to the boat – showered, had a G&T, and went ashore for our last meal with Russel… Caiparina's had become our favourite first drink ashore… very bad if you're dehydrated! Had another great evening.

All good things eventually do come to an endÂ…. and a fantastic time was had by all. What a wonderful opportunity to see and experience such a unique place. This must be one of the few places in the world where humans are truly second-class citizens.



Diary Photos
26th Feb 2007 Golden rays around the boat
No Description
---
26th Feb 2007 Feeding frenzy!
No Description
---
26th Feb 2007 Marine Iguana
---
26th Feb 2007 The gorgeous Tortuga Bay
---
26th Feb 2007 Life's a beach
---
26th Feb 2007 ...just the two of us!
---
---
26th Feb 2007 The colourful Sally light-foot crabs
---
26th Feb 2007 Very pretty cactus bark
---
27th Feb 2007 Giant Tortoise at Darwin Centre
---
27th Feb 2007 Giant Tortoise
---
27th Feb 2007 Land Iguana at Darwin Centre
---
28th Feb 2007 Baby sea lion
---
28th Feb 2007 Land Iguana at South Plaza
---
28th Feb 2007 South Plaza
---
28th Feb 2007 Beautiful Swallow-tailed Gull's and chick
---
28th Feb 2007 Land Iguana
---
28th Feb 2007 Blue footed boobie
---
28th Feb 2007 Isla Santa Cruz
---
28th Feb 2007 Just chilling out!
---
28th Feb 2007 Lava Tunnel
---