Next adventure Scandinavia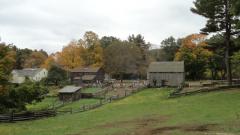 5th Oct 2013
Old Sturbridge Village MA
Today, we stay stationed at the Quinebaug Cove Campground, although we have bad or even no internet access. On the other hand, the location is quite idyllic once again at the shores of a little lake and the village of Sturbridge is only about 5 miles away. And also the weather is on our side again with a laughing sun.
Sturbridge is known for its authentic open air museum, quite similar to the Ballenberg country museum in Switzerland or the Eco-Musée in the Alsace in France. In many contemporary buildings of all kind, who have been build up again here on site or reconstructed after old plans, life in New England of the 17th to the 19th century is being shown. All actors are costumed in contemporary dresses and demonstrate the handicraft of the past times with lots of enthusiasm. Of course, they explain in detail, what they are doing and we learn a lot about the hard bread of making a living for a blacksmith or a sawmill employee but also how kids attended basic school classes and how they were thought. By the way, shortly after founding the United States of America, the states of New England had the highest education rate of the States. As for the 19th century 4 out of 5 inhabitants of New England already had basic knowledge of writing and reading and even basic Arithmetic's were thought in school. The main reason for this fact probably was the circumstance, that the immigrants, who founded many of the first communities and cities, came from all over Europe. It's quite understandable, that shotguns and revolvers were more important to survival than schoolbooks, the further west one was heading…
On our way back to the campground we pay a visit to another "Micro-Brewery" for our pre-dinner aperitif and this time I enjoy a light beer with real blueberries dancing up and down the glass. Quite an interesting creation! For dinner, I once more get spoiled by Hedy and Peter offering an excellent "Fondue Chinoise".
Heute bleiben wir auf dem Quinebaug Cove Campground, obwohl wir schlechte bis gar keine Internet-Anbindung haben. Dafür ist die Lage wieder an einem See recht idyllisch und das Städtchen Sturbridge ist nur 5 Meilen entfernt. Und auch das Wetter ist mit lachender Sonne wieder auf unserer Seite.
Sturbridge ist bekannt für sein authentisches Freiluft-Heimatmuseum, ähnlich wie wir es in der Schweiz von Ballenberg oder vom Ecomusée im Elsass kennen. In etlichen zeitgenössischen Gebäuden aller Art, die hier zum Teil original wieder aufgebaut oder nach alten Bauplänen originalgetreu nachgebaut wurden, wird das Leben in New England des 17. bis 19. Jahrhunderts live aufgezeigt. Alle Darsteller sind originalgetreu gekleidet und gehen mit viel Enthusiasmus ihren "damaligen" Tätigkeiten nach. Natürlich erklären sie dabei genau, was sie gerade tun und wir lernen viel über das harte Brot eines Schmiedes oder Sägereiarbeiters, aber auch, wie es in einer Grundschule zu und her ging. Übrigens war New England kurz nach der Gründung der USA die Region mit dem höchsten Bildungsniveau des Landes. So konnten im 19. Jahrhundert bereits 4 von 5 Bewohner schreiben und lesen und sogar Grundbegriffe der Arithmetik gehörten zum Schulplan. Ausschlaggebend dafür war wohl der Einfluss der ersten Einwanderer aus allen Gegenden Europas, die hier die ersten Siedlungen auf dem neuen Kontinent gründeten. Verständlich, dass weiter westlich das Schiesseisen zum Überleben lange Zeit wichtiger war als das Schulbuch...
Auf dem Heimweg zum Campground kehren wir zum Feierabend-Drink wieder mal in einer "Micro-Brewery" ein und ich geniesse ein Leichtbier mit ganzen lustig auf- und abtanzenden Blueberries drin. Ganz nette Kombination! Abends werde ich von Hedy und Peter dann noch mit einem feinen Fondue Chinoise verwöhnt.
Diary Photos
5th Oct 2013 Old Sturbridge Village MA
---
5th Oct 2013 Old Sturbridge Village MA
---
5th Oct 2013 Old Sturbridge Village MA
---
5th Oct 2013 Old Sturbridge Village MA
---
5th Oct 2013 Old Sturbridge Village MA
---
5th Oct 2013 Old Sturbridge Village MA
---
5th Oct 2013 Quinebaug Cove Campground, Brimfield VT
---
5th Oct 2013 Funny Blueberry-Beer
No Description
---
5th Oct 2013 Quinebaug Cove Campground, Brimfield VT
---