Dora The Explorer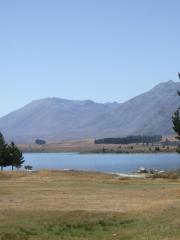 4th Mar 2007 - 11th Mar 2007




The South Island



How you all doing? It's been a while hasnt it? I am on the roads to getting me a wireless connection so I hook up anywhere!! Lady Elliot is pants for the poor 'blogger' and unfortunately NZ has been no better really. So now that I am back down under with the men at work I can tell you a little bit with what I've been up too!

So left for Christchurch on the 4th March after an eventful day before travelling back from the island. The long and short is that 1) I made the bus which initially sailed off with my rucksack sans moi 2) I got stuck on the tilt train - yes it tilts but not much use when the power cable has been cut...which alas some b**trd purposely did. We were stranded on the train for 7 - yes 7 hours before Geoffrey the diesel engine helped by Thomas and friends pulled us into the next one.. We had no water, no toilets and we weren't allowed off the train.. Worse than bloody TFL- if you can believe that. I now have great respect for Indians and thier daily commute to work. However I believe sitting on top of the train is probably a very good option after travelling on the tilt.

My journey was uneventful bar the christian who asked me whether I wanted to read his bible before embarking the plane to Christchurch from Auckland.
Christchurch is a very quaint city- think Oxford / boating lakes and afternoon tea. Miss Marple could easily live here.. and guess what? she was on the Kirra coach tour..nope only joking but there were plenty of those parting with their 'grey' pounds on our bus. I was one of the youngest. Great to see mum who coped tremendously well with her jetlag, but after one glass of wine was falling asleep in her dinner so we retired ready for the next days early early early start. Yes there were lots of them.


Mount Cook for those who havent been there- you need to go!! I know everybody raves on about how beautiful the place is but they are correct. NZ is the most amaziing place I've been too. Quiet- not a sole anywhere. Had we been in back in Britain there would have been Tesco shopping trollies, condoms, carrier bags and last nights kebab in the water. Due to the small population nobody seems to use the water - no recreational activities, no cars, no litter no anything.

I took many many pictures over both weeks and over time I will download them, but this depends on what PC I am using in terms of memory and connection. I am sitting writing this now trying unsuccessfully to download some so I can bore you all senseless but no joy.. whats that trying to tell me!!

During our week we visited on the east coast Omaramu, Dunedin- think Aberdeen but warmer, and made our way to Te Anau and onto Milford Sounds. Now we are getting into the Alps region my precious where hobbitts hide and Gandalf swings his mighty sword. Easy.. Lord of the Rings terrain is unbelievable, they must have had a ball filming here- the mountains stretch for miles. Sheer rock cliffs fall away into fresh water a mile deep, mist everywhere making the place surreal. A photographers fantasy really, so many different environments alongside each other.

Accomodation varied each night. Often we were greeted by Tubs & Edward from League of Gentlemen in contrast to the opulence of maybe Queenstown Rydges Hotel. But what stayed the same was the dull reminder of breakfast at 7 o'clock accompanied by the deafening tones of Klaus & Derik the token krauts who couldnt speak a word of English yet decided to come on a english-speaking tour.

I fell in love with Queenstown- I am going back..Think Lake Garda in Italy but with snow...The nightlife is amazing not that I managed to stay up past 10.30. It was here though that I did a sky-dive.. photo's to follow- bring it on- adrenaline junkie all the way. A spur of the moment thing- one of the girls on the tour was doing it and was slightly apprehensive so of course I told her that was nothing to it..Bugger. All I can say is that I prefer under the water than being in the air! No brown pants to report though so all good.

This part of the journey then took us to Fox Glacier through Wanaka..which DG if you are still reding this- what a beautiful place you lived in!! Why did you leave it??? We took a tour up the mouth of the Glacier , all of us in a line running back down from it like the kids in the sound of music.. Its melting very quickly. Which is why the next morning we took a helicopter ride over the top.. Wow!! Tried to push mum over the cliff but no luck-- only joking. You would have done it first!

So as we made our way up to Blenhiem to catch the Interislander over to the North Island we stopped by a winery as you do and did some tastings.



Diary Photos
---