Sailng on Windwanderer.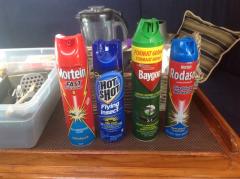 8th Oct 2013
Tuesday 8th October 2013
Tuesday 8th October 2013
Well today is the day, we are leaving, I was up racing at about 5am, I sorted out the last lot of grocery's and tidied and cleaned this boat from top to bottom.
The Captain was busy getting the shroud back in place, and as per usual it was not going well, the fittings where all the wrong size, so he was going back and forwards racing into shore to get this part and that part fixed.
We eventually get it all done by midday, and once again this boat is ocean ready, we go over and say goodbye to Eric and Daphne and off we go.
This one is only a short trip over to the island of Moorea, about 4 hours.
We have arrived oh man what a pretty island it is just massive volcanic mountains, even though its westernised its still has a nice feel about it,
Once again we feel like this is the right kinda life to be living, I actually was so glad to be out of Tahiti.
The Captain wanted to find the famous Bali hai Hotel, so we could have a drink there and take a few pictures for his daughter Marion.
Marion had done a musical of the South Pacific and if you know that Musical at all the Bali Hai was in it.
But it was not meant to be the hotel has changed names now or so we were told at the first place we went to.
The second place said no its still there and after talking to a couple they told us where it was, we were moored almost out the front of it. But we actually think its still not the original one, and this place was closed for the night anyway.
So after a drink at the second place we headed back to the boat, in pitch black.
We climb onboard and are meet with a boat full of flying bugs that will not be named, they were everywhere The Captain and myself both armed with cans of spray literally sprayed every inch of this boat, and as we sit here looking like the boat is on fire with the cloud of smoke (fly spray) floating all around us, we settle in once again for the night.
Well tomorrow is another day.
Diary Photos
8th Oct 2013 Image
Our many fly sprays.
---
8th Oct 2013 No Title
Leaving Tahiti
---
8th Oct 2013 Leaving tahiti
No Description
---
8th Oct 2013 No Title
Leaving Tahiti
---
8th Oct 2013 No Title
Moorea
---
8th Oct 2013 Moorea
No Description
---
8th Oct 2013 No Title
Anchored in the bay Moorea
---
8th Oct 2013 Moorea
No Description
---
8th Oct 2013 No Title
Moorea
---