Sailng on Windwanderer.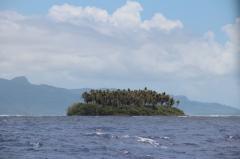 10th Oct 2013
Thursday 10th October 2013
Thursday 10th October 2013
Well it about 12.30am and I'm still awake, I just have to see what ship it was curiosity got the better of me, and it is a Cruise ship man, these guys are big, and must have a thousand lights on the thing.
Well I woke up to land in the distance, yeap we can see Raiatea in the distance, we had no worries about hitting it in the nighttime as its still hours away and there is not much wind so it's gonna take all day to get there, it's about 2.00pm, and we are at the entrance.
Now we know why we left it to daylight to come in, there is only one safe area to go into, the whole island is surrounded by a coral reef, talk about hairy going in but we made it just fine and what a or pretty place, I have to say these lot of islands out here are just gorgeous.
We motored all around the island very slow just taking it all in and also on the look out for a good anchorage for the night.
We made the decision to go to the next island of Tahaa which is not far away and also you have an entry/ exit out into the ocean very close by.
So once again we motor around this next island to find a nice little sheltered spot to spend the night. We eventually came to a little bay, and with a bit of a struggle, we eventually set the anchor, and here we are in a tropical island in the South Pacific listening to a cow bellow...hahaha
Well tomorrow is another day.
Diary Photos
10th Oct 2013 No Title
Tahaa
---
10th Oct 2013 No Title
Tahaa
---
10th Oct 2013 No Title
Tahaa
---
10th Oct 2013 No Title
Valcano
---
10th Oct 2013 No Title
Tahaa
---