Sailng on Windwanderer.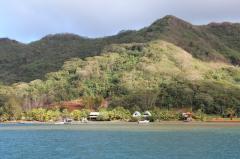 11th Oct 2013
Friday 11th October 2013
Friday 11th October 2013
So up bright and early, for an early start we are off to Bora Bora.
Now we have read that this island is the prettiest out of all of them, so we are pretty much excited to get there, this one is only about 3-4hours away..
And we are here a bit shaken and stirred ...hahaha was a bit of a rough crossing.
And once again another gorgeous island, is it the prettiest? We actually think Moorea was out of all of them, as it has the massive mountains all around, but this sure is a close 2nd.
We motored around again to find a nice spot, we eventually decided on a mooring just off a little yacht club/ bar, the first attempt by yours truly to pick up the mooring went well, as you have a big boat hook learning over the side and just have to snag that sucker as quick as possible, and I got it , The Captain races up but the boat won't slow down quick enough and we can't hold it, the wind was blowing really hard.
So take two, with strict orders from The Captain to give him better directions and not try and hold my skirt down with one hand and the boat hook in the other, well my skirt was blowing around my neck almost.
Me a bit huffy as he had not told me to give him directions, I am still learning, and bitching away to myself, as I thought I was so clever but nope we had to turn the whole boat around face it into the wind and try again.
This time with my skirt flapping everywhere boat hook firmly in one hand giving hand directions and a local guy comes out in his dingy and just passes it up to me so so easy The Captain comes up and secures it perfectly.
He was a worker from the yacht club, and after asking him a heap of questions, he could speak English thank god, we can pay to stay the night on the mooring or have a meal at their restaurant and stay for free. Me not having to cook sounded great to me, so we went with option number two.
After a quick shower and into shore clothes, we lowered the dingy and set off.
The pilot book we have says that where we are is only a restaurant and the yacht club is around in the next bay. So we decided to have a look at the other club first, we get there dodging coral reefs, yeap this island has them to it was another very careful entry in here.
We get there and its just a restaurant so we decide to go back to the first one.
We get ashore on a very rocky jetty with the wind blowing so hard I thought it would just blow us straight off it.
Then get to the end and there is a huge gap that you have to jump over to get to land, I look at this and think nope not gonna happen. The Captain laughs and says he will go first and drag me up, which he did and all went well.
We sit down and order a drink as it was happy hour, and they have Internet yay yay yay.
Although its not real good but at least it's something, there was another couple next to us and we start chatting, they are from Texas and were on their honeymoon.
They were very curious about our boat and life style, that we eventually asked if they wanted to come out to the boat and have a look and a drink on board.
We thought they would just politely so no which was fine, but they jumped at the thought, and down their drinks so fast...hahaha
So we brought them out and they just loved it, we had drinks on deck and just had a lovely night chatting away, and telling them all our war stories.... Hahaha.
Well tomorrow is another day.
Diary Photos
11th Oct 2013 No Title
Bora Bora
---
11th Oct 2013 No Title
Bora Bora
---
11th Oct 2013 No Title
Bora Bora
---
11th Oct 2013 No Title
Bora Bora
---