Sailng on Windwanderer.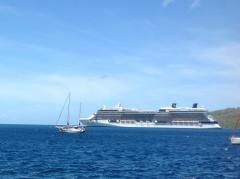 12th Oct 2013
Saturday 12th October 2013
Saturday 12th October 2013
Well I'm up bright and early, with not much sleep at all, the little bar last night decided to have a bit of a party, with music blaring all around way into the very early hours of the morning.
I'm sitting here catching up on my blog, when I look up and was shocked a huge cruise ship has just come into the bay and got very up close and personal to us.
Man they are big, I never thought a cruise ship would come in here at all and we were so careful coming in the entry...hahaha
They just ploughed right in.
The Captain was sound asleep so I waited till it was right next to us and woke him up, the look on his face was priceless....haha
So today once again we leave this time for Tonga, with any luck we should get there in 12-14 days.
We raced like crazy all day in 25knt winds it was blowing a gale, so not fun in the dingy I can tell you.
We even could not go into the fuel dock as it was just way to rough, so the poor Captain had to ferry jerry cans back and forwards for hours.
Myself I sat at the little bar fixing up all the last Internet stuff, for a few hours at least.
Then we had to do groceries, imagine my surprise as i was looking in the frozen section for some squid or such to use for bait for the next leg, and of cause everything is in french, so you kinda work it out by what it looks like, and I come across this bag of frozen stuff, for the life of me I could not work out what was in there, then I read the label and in the top corner is a picture of a frog, OMG they were frozen frogs legs, I dropped them back so fast and just took off in the opposite direction, I still shudder every time I think about it. So after that horrible episode The Captain comes from clearing out at customs and we get this little ship of ours ocean ready once again.
We finally left at 4.30pm and here I sit The Captain is snoring away beside me even though its only 7.30 at night but he is so warn out.
So it's my watch.
We are rolling from side to side like crazy, why I ever think this is a good idea I have no idea...hahaha
We have had the cruise ship chasing us for a fair while but now it's turned off and heading to Moorea.
In about 12nm's we will pass another small island called Tiriano so I'm keeping an eagle eye on the radar, and once we past that one, that's it for a long time.
So we passed the island with no worries at all, even though I tried real hard to see it, it was just way too dark I did see one of their flashing beacons, so I guess that was something.
Well tomorrow is a other day.
Diary Photos
12th Oct 2013 Image
Us next to the cruise ship.
---