Sailng on Windwanderer.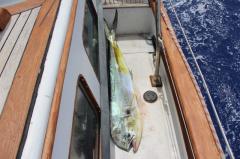 15th Oct 2013
Tuesday 15th October 2013
Tuesday 15th October 2013
Day 3
17°00S. 157°56W
932nm to go
7pm
So it's night time my watch, what a day we have had, talk about highs and lows.
The highs, I woke up to find a flying fish on deck, this is the first one for ages, so of course I put it straight on my rod, which now has heavy duty swivels and stuff on it, I was wrong yesterday when I thought the line had broken, it was my swivel that had snapped.
So anyway the line is not in the water any longer than ten minutes when it starts singing, up I jump, race as much as I can in rocking rolling seas.
Now this guy feels more like a Mahi Mahi and sure enough as it gets closer I see that it is, once again I sit and watch it for ages, as we know how mental these guys are, if you don't at least try and ware them out.
After what seems like forever I ask The Captain is he ready for this, he once again gets the rod down and slowly brings it around the side, me once again with the net, I lean over with the net to catch it and drop it, off floats our you new beaut net.
Man I was not happy, so I race and grab the gaff, and The Captain and I change places, at first I thought I could gaff it as it did not look that big.
Well I am so glad I didn't attempt that, we land this sucker on board and its huge, yeap we measured it this one is the biggest so far a whopping 1325cm.
Now we were told that to calm them down when you bring them on board is to put something over the head, so I had an old t-shirt as per usual it's doing its mental dance with The Captain and I staying well clear, he grabs the t-shirt throws it over its head, but got a bit too close and his family jewels coped a few good whacks with its tail, so not funny.. Hahaha
and now its doing the mental dance with what looks like a balaclava on its head a nice pretty green one at that......hahaha
So much for that theory so it shakes it off at my end this time so I grab it throw it over again and stand with one foot on it head, it was kicking and bucking so much I thought it would throw me over the side as well, but it slowly started to change colour and go still.
Man I tell you I have never ever in my whole life seen a fish that goes that nuts when you land them they are totally mental.
So now the big job of filleting this guy, half way through The Captain yells out that I better hurry as there is huge storm clouds coming our way, so I grab whats left and bring it down stairs to finish, just when I was about to put it all in the freezer, the storm hits, man I got thrown right into the table and everything went flying including a dozen eggs that smashed onto the dinette cushions, so not fun.
Man we battled these storms for hours and hours, with huge waves and gale force winds, was just shocking, I'm starting to think King Neptune is angry with us for taking one of his children, I tell you it sure seemed like it.
But the storms finally past but it has left us with shocking seas and big big waves. We are rolling all over the place, we both have cushions tucked under both mattresses to try and stop ourselves from getting thrown off.
Are we having fun yet?
Well tomorrow is anther day.
Diary Photos
15th Oct 2013 Our big fish.
The big one.
---