Sailng on Windwanderer.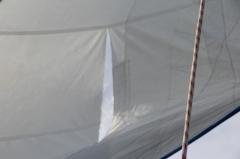 22nd Oct 2013
Tuesday 22nd October 2013
Tuesday 22nd October 2013
Day 10
16°24'S. 171°18'W
6pm
544nm to go
Well problems are happening once again.
The AIS is not working at all now, for such an expensive piece of equipment you would think it would last longer than 6 months.
But no it seems nothing last much at all around here, the ocean life sure is brutal, to most things.
And we have another rip in the Yankee sail, yeap right next to the repair that was fixed in Nuka Hiva.
This one is a big one, so we are trying to not let it jolt too hard, so it does not get any worse, now we have to add one more repair to the list to be done in Fiji.
We thought about turning around and going to Samoa but have decided to keep going to Fiji instead and just hope the rip does not get any worse.
We still have around 5 days to get there, so fingers crossed.
I have to say this has not been one of our better crossings and I think the most stressful so far. One day we might get that perfect crossing, I guess you can only hope.
Well tomorrow is another day.
Diary Photos
22nd Oct 2013 Image
Torn sail.
---