Sailng on Windwanderer.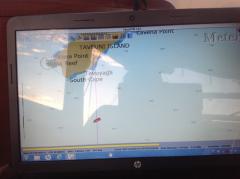 28th Oct 2013
Monday 28th October 2013
Monday 28th October 2014
Day 15
16°58'S. 179°39'W
61nm to go
1am
Well well well, we are almost there, it's my watch the last official one for awhile at least, man it will be so good just to sleep a full night in our own bed.
I have an eagle eye on the navy thingy, radar and the AIS chart, it's still not working properly and we have tried everything to get it back running, nothing works, we are stuck in silent mode which means the other ships can't see us but we can see them as I big tanker went past when I was asleep and The Captain said it showed up, so at least that's something.In about 4 hours we will cross the International Date Line, even though we lose a day, we will be almost back o Aussie time, just 2 hours ahead, man that's the closest we have been to the correct time at home in 20months.
It's a nice feeling.
We have passed several islands so far and all is good we are in a channel called Nanuku Passage, so I guess it's a passage not a channel...haha
And are at the moment going past a bigger island Taveuni which is about 24nm long than we will hang a rIght and slowly make our way into Savusavu sometime around midday I guess.
Then the fun will begin, having to deal with customs is gonna be a nightmare, from what we have read they are brutal but at least at Savusavu they seem to be better than clearing into Suva, we will wait and see.
Well I was wrong we did not get here till 4pm and we had to up the revs on the motor to get here at that time.
A guy at the marina if you can call it that, it's a little shack on the shore, well he came out and led us to a mooring ball and then we asked him all kinds of questions, all the officials will come out in the morning as they have closed for the day as daylight saving started today so we have to put the clocks forward another hour, we are now 3 hours ahead of Aus.
This place has a nice feel about it, although its hot, man is it hot and not a breeze to be found.
We settled in for the night with a wine or two and a mozzie coil burning away, we are very close to an islands edge.
Well tomorrow is another day.
Diary Photos
28th Oct 2013 No Title
On the AIS.
---
28th Oct 2013 Image
Now East. In 2 seconds.
---
28th Oct 2013 Image
Crossing the international date line, look at the Vessel (ves position) West.
---
28th Oct 2013 Image
One lonely palm tree.
---
28th Oct 2013 Image
No Description
---
28th Oct 2013 Image
Mill pond, it was crazy no wind at all.
---
28th Oct 2013 Image
Our first Fijian island.
---