Sailng on Windwanderer.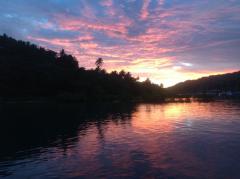 1st Nov 2013
Friday 1st November 2013
Friday 1st November 2013
One more sleep, well actually for us it may be many, if you count all the sleeps we try and get...haha
So my girl comes tomorrow I so can't wait, also tomorrow is special in another way, it's my girl Madeline's Birthday, so I have two things to celebrate, although it makes me sad that I miss yet again another birthday.
And it's the first official day of the cyclone season, great more storm watches and worry, this is the Third time we have come into one of these season, what happened to us saying we will pick the right seasons and never sail in these areas that sure has not happened, the good thing is most cyclones only start around in a months time so we hope we will be lucky, but we sure will be checking the weather a lot more now.
Think I better not post this until my girl is on the plane...haha
We have been flat out once again, I had no idea there is so much work on a boat it's crazy, I decided to start oiling the timber work, as it sure is looking tired, man this has been happening all day, I have hardly stopped at all, The Captain has been on watch the whole time in these waters you sure need to be.
We had really strong winds at one stage, I was hanging over the life lines trying to reach the timer work on the side of the boat when The Captain yells out to hold on.
I just planted myself on the deck wedged myself up against a sail bag and held on for grim death, we had an incredible strong wind come through, which blew the boat right over, I'm sitting with the ocean only a foot away from my face, watching the water, coming closer and closer, man was my hands shaking, The Captain battled with these winds for what seemed like forever, I was so scared, he needed to get The Yankee sail down so I decided to make a run for it to the Cockpit as you really do not want to be out on Deck when that guy comes down in strong winds, the ropes fly everywhere with such force, that I'm always convinced they will hit and break something, honest they are bad, it would break bones if you got hit with one, many of times even in the cockpit they fly in and you have to dodge them.
So late in the afternoon way after the winds had settled down and the ocean as well, strong winds always kick up big waves, I called it a day I was just too tired, and sunburnt to carry on, although I was covered with a long sleeve shirt sunscreen and for about five minutes wearing The Captains big straw hat that was tied even under my Chin, ( so stylish) haha, but a gust of wind blew it straight off into the water and we both just sat and watched it float away, I felt so bad losing his hat, then right in the middle of the strong winds we both watched one of the winch handles drop off the winch and fall into the water, that one The Captain was using, so we both were equal there...haha
And once again we settle into a stressful night, at least we have dead calm seas and no wind although we are on a Leeshore It means you have the shore on one side and the wind blowing you towards the shore so you have to be very alert. ( see how nautical I am ...haha I only know this cause The Captain just told me about it and told me to be careful as this is dangerous sailing ) great, way to go Captain just add some more grey hairs, as if I need anymore.
Well tomorrow is another day.
Diary Photos
1st Nov 2013 Image
No Description
---
1st Nov 2013 Image
No Description
---