Sailng on Windwanderer.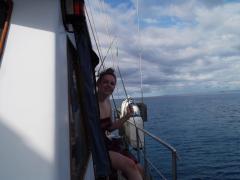 4th Nov 2013
Monday 4th November 2013
Monday 4th November 2013
Today the guys went back in and freed the rest of the rope and this time even Bek got in, the two of us decided to swim to the reef and have a look around but we got a quarter of the way there, and decided it was just way too far away.
We ended up all climbing into the dingy and going over to the reef, we anchored the dingy and all went snorkelling around the reef talk about beautiful fish, although I had a massive panic attack when trying to swim over some coral that was just way to close to me, The Captain came and got me and held my hand like a little girl....hahaha but we went out deep where the coral drops and man was it so pretty.
We than decided to move once again, this time to another little island that is actually just on the other side of this island, we manage to get there, in under half an hour, with poor Bek once again being seasick.
And what a pretty place this is. We were the only ones in this bay.
Ant and myself were itching to get ashore to walk around the rocks and try and find some periwinkles to fish with as we have tried with the handlines and lures but having no success.
The Captain gave him instructions on handling the dingy and off the three of us went.
We got half way there and almost hit the coral, Bek and myself grabbed the oars and pushed ourselves free in a bit of a panic, but we managed to get back to the boat with no injury to the dingy or ourselves.
We talked The Captain into taking us ashore, man even that was hairy with us having to lift the motor and paddle in, but we managed to find bait and then we pulled the dingy back to deeper water and had a swim.
The kids and myself fished through the night and we caught one each although they were just little reef fish it still was fun.

Well tomorrow is another day.
Diary Photos
4th Nov 2013 No Title
No Description
---
4th Nov 2013 No Title
The only boat in the bay.
---
4th Nov 2013 No Title
Just fishing.
---
4th Nov 2013 Bek about to have her first swim off the boat
No Description
---
4th Nov 2013 No Title
Ant holding Beks Fish
---
4th Nov 2013 Ants Fish.
No Description
---