Sailng on Windwanderer.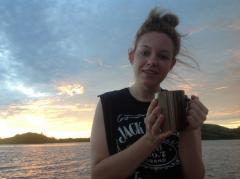 5th Nov 2013
Tuesday 5th November 2013
Tuesday 5th November 2013
Well where do I start?
Today started with a beautiful sunrise, Bek and myself sat up at the front of the boat sipping our coffees and just taking it in, it sure is peaceful here.
The others slowly came back from the land of nod, and then the rush was on.
We had to get back around to Musket Cove as a guy was going to meet us there to have a look at our generator, so off we set.
Poor Bek was feeling green once again, but soon forgot about it once we come around into the bay.
Her and Anthony were sitting up the front of the boat and The Captain and I were in the cockpit navigating around all the reefs, we were talking away and not looking where we were going when we were jolted to a stop.
We had run aground on a massive coral reef, The Captain had gone on the wrong side of a pole.
And yeap all hell broke loose, Ant came running to us looking very pale yelling that there was a huge coral reef ahead just as we hit it, Bek was almost having a heart attack and was mumbling on and on about the Titanic...hahaha The Captain and myself just turned grey.
we were stuck hard on a falling tide, panic was all around.
Now these reefs are huge and we could not move the boat in any direction, we tried over and over but nothing worked, we ended up calling up the guy who was coming to see us, and he had a boat with a lot of horse power, so he was coming to the rescue, a guy came over from another boat and he dived under the boat to see how bad it was, The bow of the boat was wedged hard in between two very large bits of coral meanwhile with us all still freaking out at least we could see the coral and some beautiful fish which was kinda nice.
The other guy gets there in about five minutes and also three guys from another boat came over as well, with a lot of tugging and pulling us over on our side a bit they finally managed to get us free, there was a panic mode happening from all around as the tide was going out real fast but all went well and we floated away from it.
With a sigh of relief we set the anchor way away from coral and the guy had a look at our generator and could do nothing but got us in contact with a guy back in Nadi so off we set once again, this one took about two hours with Bek being so sick the poor kid, but we made it and this time decided to go to a marina berth.
I hate this with a passion as the boat is so hard to handle and to get her into a berth is a nightmare, just as we were coming into where we needed to be the wind picked up and there was no one there to meet us and grab our lines, The Captain grabs the radio calls them and we have to go past the spot to wait for them to get there this also was in very shallow waters and yeap we run aground again, the poor kids were ready to jump ship big time and I was right there beside them I was in a flood of tears by this stage and just over boating big time.
We managed to get ourselves off it as it was only mud and reversed back and then into the berth without too much drama although the guys handling the lines struggled a bit to control her but we are all tied up to the wharf and safe and secured, only for The Captain announcing that we only have about 30% steering great another repair, this little bit of joyful news set me off in another flood of tears.
We ended up showering dressing and going ashore and having a few stiff drinks and a lovely meal at an authentic Fijian restaurant and tasted Kava, for the first time. we had a really lovely night although Bek ended up sick when she had something with gluten in it, but still it was a nice night.
Well tomorrow is another day.
Diary Photos
5th Nov 2013 Image
Early morning coffee
---
5th Nov 2013 Image
No Description
---
5th Nov 2013 No Title
Love this pic
---
5th Nov 2013 No Title
Ant relaxing
---
5th Nov 2013 No Title
Yeap The Coral.
---
5th Nov 2013 No Title
Us cooling down after a stressful moment
---