Sailng on Windwanderer.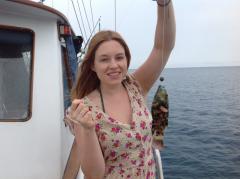 9th Nov 2013
Saturday 9th November 2013
Saturday 9th November 2013
Well today the riggers finally arrived and after a few hours the pole was fixed and we now have a working sail up with no rips.
So by this time it's after lunch and we decide to head off, only to find once again the AutoPilot is not working.
Once again we try over and over to get the thing working, with Anthony reading all the Manual's this time but still no luck.
We decided to ring the guy that fixed the generator and he came out to the boat and had a look.
It looks like we have a fault in the gyro so he is ordering one in for us
We decided to get going anyway as we were only going to the little island that we left the other day and two hours of hand steering is not so bad.
Off we go, I had loaded the kids up with seasick pills so they were both asleep when we left, other than almost hitting a pole with the bow sprit, we managed to get out of the marina fine.
The kids woke up shortly into the voyage and poor Bek was once again very green, and anyone who knows her will know she does not suffer in silence...hahaha
I do feel very sorry for her as I know just how she feels as I suffered a bit this trip as well.
Although she did come right 3/4 of the way there, so fingers crossed she may just be getting used to the motion.
We finally got there and we decided to have a fish once again we caught a lot of little ones but managed to get three decent size ones that we had for dinner.
Well tomorrow is another day.
Diary Photos
9th Nov 2013 Image
Beks fish
---
9th Nov 2013 Image
Ants fish
---