Sailng on Windwanderer.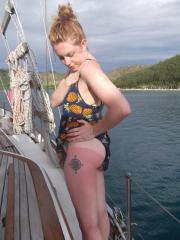 10th Nov 2013
Sunday 10th November 2013
Sunday 10th November 2013
Today we decided to go onto another island, this one was about another two hours, Bek was not so bad this trip.
But man was it hairy, we had to go through so many shallow reefs and be so careful I for one was just glad when we got there.
And it rained all day which was a disappointment, but at least it was cooler and we just chilled on the boat, fished a little with no luck and just watched the world go buy.
We are in a bay that is surrounded by coral and three islands that we can make out all have resorts on them so tomorrow we may go ashore and have a look around and a swim and snorkel off the beach.
Well tomorrow is another day.
Diary Photos
10th Nov 2013 No Title
Guess where Bek forgot to out sunscreen?
---
10th Nov 2013 Image
The Captain and Ant repairing a rope.
---
10th Nov 2013 Image
No Description
---