Sailng on Windwanderer.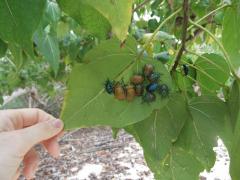 11th Nov 2013
Monday 11th November 2013
Monday 11th November 2013
Well today we decided to go ashore, so loaded up with snorkels, goggles, flippers and towels we all pile into the dingy and set off.
It was only a short distance to shore and we pulled into the jetty, only to be told by a security guard that you have to ring first and ask permission to go ashore, great.
He goes off and asked the manager of the island and comes back to say that it's ok to go ashore.
So loaded up off we go.
Bek, Ant and myself, put on all our gear and get into the water, The. captain wanted to have a chat to a few guys about going around the islands and stuff.
There was not much to see in the water and I don't think I even saw any fish I looked up and The Captain is standing on shore calling us in.
Apparently the manager changed his mind and decided that we could walk around the island and have a look around but not swim or snorkel.
Well we were not happy at all, so we climbed back into the Dingy and thought we would try another island, the poor security guard was so upset and said the other islands were a lot better.
So off we go once again to the other two and same story you have to ring first, by this timed we were pretty much pissed off with island resorts, but The Captain decided to give one more a try.
This one is called Castaway Island but it was a fair bit away from us, not a problem for The Captain apparently but with the ocean started to kick up a bit the rest of us were not that keen anymore.
As we got closer I spotted a little remote beach and so we decided to just go in there and pull the dingy up on the beach.
Well it sure was worth the hassle we had with the other islands and with not another sole in sight we snorkelled swam and beach combed, we even spotted some bright coloured bugs that were amazing and just had a really good time.
This is so what I was hoping to find for the kids and us just a remote place to hang out.
The tide was starting to go out so we decided it was time to go back to the boat as we had to cross some coral reefs and did not want to do it on low tide.
What a trip back it was shocking with waves crashing all over us and it just seemed like it took hours.
We eventually made it back. I did some clothes washing while the kids had a nap. Then The Captain decided to go have a snorkel around the reef behind us and Ant and myself decided it was fishing time.
We did not even get a bite so decided to jump in the dingy and paddle over the reef and try there, The Captain dived down with the anchor to secure us and there we sat getting no bites and just hooking the reef. I did manage to catch a fish that was about 5cm long and Anthony caught a huge chunk of coral...haha
We decided to paddle back to the boat and tie the rope to the back of the boat, we were hoping we would just drift towards the reef some, but no suck luck. We could see fish jumping all around the sand bank behind the reef so decided to paddle the dingy over there and try our luck.
If your wondering why we are paddling it's because the coral is very close to the surface and it's easier to paddle over it without damaging the motor.
We had no luck there either and it was getting dark, so once again back to the boat, where Bek had cooked up a lovely stir fry and we settled in for the night and watched a movie.
Well tomorrow is another day.
Diary Photos
11th Nov 2013 No Title
The Bugs
---
11th Nov 2013 No Title
Bek and Ant enjoying themselves
---
11th Nov 2013 No Title
Us enjoying ourselves
---
11th Nov 2013 No Title
Ant searching for crabs
---
11th Nov 2013 No Title
Bek
---
11th Nov 2013 No Title
Ant still searching
---