Sailng on Windwanderer.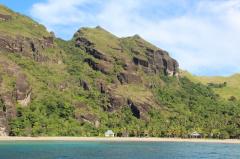 13th Nov 2013
Wednesday 13th November 2013
Wednesday 13th November 2013
Well all is still not good on this here vessel, the wind picked up in the night and with it a huge swell.
The kids had not slept much at all and were in a bad way, there was a lot of tears from my girl as she was so tired and felt so sick, Ant was not much better.
They ended up laying down in the saloon area and both fell asleep soon after.
The Captain and I decided to take the boat around the other side of the island hoping that it would be a lot calmer.
We came in here with just a few hairy moments of shallow water and coral reefs, and set the anchor.
This time in calm waters, the kids woke up and felt a lot better, we have had a swim off the boat to cool down, watched squid swim around the boat and scare them to watch them ink..hahah oh and tried to catch them.
We have spotted goats on the mountains and even two pigs on the beach.
We decided it was time to go ashore and do the Kava thingy, Bek did not want to go ashore as this was the first time she felt ok in days so she stayed onboard.
The rest of us climbed in the dingy and off we set, the chief here was a really nice guy and the place was well looked after, even know it is a very small village he told us there is 300 living here, where they all live I have no idea.
We chatted for ages and they were very concerned that we left Bek on the boat, I told him we tried every thing to get her to come with us and I said he was free to go out and try himself, he just laughed.
Oh and we gave him a huge bundle of Kava as we don't think we will need anymore so he was very very happy.
Over the hill is a resort that they own and most of the locals work there, he told us it was an easy walk and should take about 15mins.
He lied, after we made a quick trip back to the boat for wallets, off we set.
I'm not sure how long it took us to get there it felt like an hour, and the first part was easy but the rest man it was up one mountain and then a heap of steps down the other side, I just knew coming back was going to be a killer, it's just a mountain track very pretty but smelly in some places as they have pig pens dotted here and there, we passed pigs just wondering around, saw cows and mountain goats and with luck no spiders, we have read that although the spiders are harmless, they are huge, am so glad we didn't see any.
We got to the resort and what a pretty place just very basic but nice, we had ourselves a very quick drink, as we noticed rain coming, I was so worried Bek would freak out so we rushed as much as we could climbing a million steps up hill which was sheer murder and made it back to the boat, Bek was pretty upset as the wind had picked up as well, but settled down once we were all back on board.
The rest of the evening we just took it easy, played cards and enjoyed the night.
Well tomorrow is another day.
Diary Photos
---
13th Nov 2013 No Title
Us in the bay
---
13th Nov 2013 No Title
Us in the bay
---