Sailng on Windwanderer.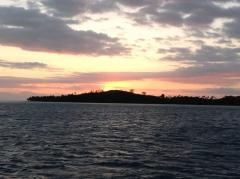 14th Nov 2013
Thursday 14th November 2013
Thursday 14th November 2013
So today we leave and go back to our favourite little island.
The kids leave tomorrow and we will as well but first we have to check out, we have decided to check out at Vuda.
This will be a lot easier for us, but the officials are only there till 12pm so we need to get there early.
This was a long trip back taking about six hours, I was really concerned for the kids as they don't do crossings so good.
Well surprise surprise they were fine and it was me this time who was sick..haha
In all fairness I had next to nothing sleep the night before, am worried about my child back home, I guess being a Mother and no matter how old your children are when they are upset, you worry so much and just wish you could help them.
So early in the trip I took two strong seasick pills and went and layed down. I managed about three hours sleep and woke up fine, the gently ocean helped too.
So we finally get back, this place we know is a quiet anchorage, and it's also the only place we have caught fish.
As soon as we got there we geared up to go snorkling as it was getting late in the afternoon, and in Bek's words it's when the sharks come out...haha
So all loaded into the dingy we set off trying to find some nice coral after about the third attempt we managed to find a nice spot.
We dropped the anchor and jumped in, talk about nice we seen lovely coral and the most bright coloured fish you could ever imagine.
I'm so glad we had a last good swim and the kids loved it, even if I did have a moment when I could not get back in the dingy, everyone thought this was a huge joke, I was not so impressed.
We then cooked a nice dinner well with very meager rastions we did ok...haha
Had a few wines! Let off some fireworks that Bek had got at the local supermarket and just had a nice night.
Well tomorrow is another day.
Diary Photos
14th Nov 2013 Image
Our last Fiji sunset.
---