Sailng on Windwanderer.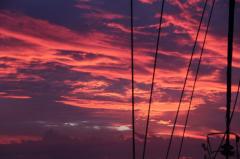 20th Nov 2013
Wednesday 20th November 2013
Wednesday 20th November 2013
22 .05'S 167 .42'E
71nm to go
7pm
Well we are still at it, not much has happened all day, just still reading up on New Caledonia and the entries.
We have decided to go into the original entry, as we have had several emails back and forth from a friend of The Captains and its looks like the weather and tides are with us. It still makes me very nervous about going in this way, when you look at the charts it looks worse than Fiji, and Fiji was seriously nerve racking.
I still have my hand line out, but have not had even a fish smelling it, even if I did put on some old bait that we had here that smelt so bad we had to chuck the rest overboard, man it was on the nose. But nothing apparently these fish don't like the smell either.
And once again we settle in for the night, The Captain is having the first sleep a lot earlier than usual, as we should reach the entry by 4am and then it's all hands on deck.
Well tomorrow is another day.
Diary Photos
20th Nov 2013 No Title
Just a beautiful sunrise
---
20th Nov 2013 No Title
And another
---