Sailng on Windwanderer.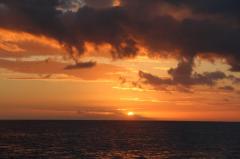 21st Nov 2013
Thursday 21st November 2013
Thursday 21st November 2013
And we are here, finally safe and sound if not a bit shaken and stirred.
After 6 days and around 750nm we are here, man we are clocking up the nautical miles, I think we are now classed as serious cruisers, even if we still don't really feel like it.
So the entry and the passage into here was not as bad as we thought, I managed to have two hours sleep before The Captain woke me around 4.30am when one of those huge cruise ships went boring past us, man they sure are big.
We actually followed it into the entry, so we realised that if a big mama like that can go through it must be fine for us and it actually was a lot deeper and wider that we thought, sometimes it almost felt like you were out in the middle of the ocean again, but it was very deceiving as on our port side (left) was all reefs but you just could not see them, On are chart plotter was a line to follow and we stuck with it like glue, I tell you.
We had a current flowing with us which helped until we came to a passage between two islands when the wind picked up and was blowing on the nose, it had to be over 20knts and we were beating into it with massive waves crashing onto us, and the bow sprit (pointy end) nose diving under water about every 3 minutes, so not fun.
I tried to take photos looking through the window of the cockpit as there was no way I was even going to poke my head out around the cockpit, they did not turn out real well, but if you look at the pics hard enough I'm sure you can see how bad it was.
Am glad Bek and Ant were not with us on the leg of the Journey they would have been calling the coast guard for sure to come and save them, hell even at one stage the thought crossed my mind...haha
But we made it here, around 2pm we call up the marina and asked if they have a berth for us, as this is what you are suppose to do to wait for the officials to come aboard.
They come back and tell us the number of the berth and to head in, now the mad scramble to get fenders out by yours truly on the side they said, and then I took over the boat while The Captain got all the ropes ready.
So in we go counting down numbers when we see a lady waving to us and directing us in. Into what The Captain described as a trying to squeeze a Tonka toy into a matchbox space. Oh man it was a tiny space with a dock on one side and a huge catamaran on the other, well we only had fenders on one side so I raced to get more out so we would not damage the cat.
With The Captain having to make three attempts to line it up and me stressing like you would not believe and a guy standing in front of us on the jetty trying to give The Captain directions, which was just stupid as you cannot see directly in front of the boat, I raced out and relayed the directions, and we made it how I have no idea But The Captain should be really proud of himself as that was some fancy manoeuvring on his part and we did not hit either side at all.
We tied up and even before we could catch our breath they told us we had to go ashore straight away to the office here with our papers and check in.
So off we both get, now officially only The Captain is suppose to go ashore until all is cleared but I was itching to put my feet on dry land and what is the first animal we see on land? A lady walking a French poodle...hahaha
We sure are in Frog land again.
Well tomorrow is another day.
Diary Photos
21st Nov 2013 No Title
A beautiful sunst
---
21st Nov 2013 No Title
Coming into New Calendonia
---
---
---
---
21st Nov 2013 No Title
Not quite the perfect storm, but sure was rough.
---
21st Nov 2013 No Title
Lots of big waves
---
21st Nov 2013 No Title
Big Big waves
---
21st Nov 2013 No Title
More big waves
---