Sailng on Windwanderer.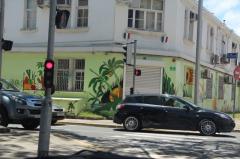 22nd Nov 2013
Friday 22nd November 2013
Friday 22nd November 2013
Well today we were up and running once again, we decided to hire a car for the day as we have so much running around to do. But as per usual all good plans never work out, for a start we had a map, that was missing streets and all streets are one way, this was also wrong on the map, the lady at the marina here did her best to adjust it, but still it was a nightmare trying to get around especially if you miss a street, than you almost have to go around the whole island to get back to it.
All I can say is I was navigation most of the time and we sure saw a lot of the island many many times over... haha
And then the offices close at around 11am for lunch and open back up again at 1pm. So we had a lot of waiting time and changing stops here and there.
We had made a list of what and where we need to do.
Immigration to check in and check out all at the same time, as we are leaving early Monday they give you 48 business hours to leave, so Monday is fine and it's a lot easier than having to go back and forwards.
Customs, to check out and pick up some paper work that has a number on it that we needed to pick up at DHL, a replacement AIS was being sent to us there, and if we had this number we didn't have to pay import duty's on it.
Then a place to try and either get our water maker pump repaired or a new one, which resulted in about 5 different shops, but no luck there at all. The only lucky thing here was that they were all on the same street.
2nd trip back to DHL, as they were closed the first time, having to wait for all the paperwork than drive around the back to pick it up, this was as the lady said 3 lefts, even though it's in the street right behind them.
Next stop was to find the Ipad store, we had been told about two stores, and the first one was an Istore so this was the first stop, with sheer luck we parked right out the front of it. The Captain here had the hassle of trying to find a shop to buy a drink or something to get change for the parking meter. I had finished all my stuff before he even come back.
The prognosis is that my ipad can be repaired, but it will take a week here to fix it, so it looks like I am without one till we get back to Aus. Man my life is over...haha
6. We then hunted down a chemist to get a few things luckily it was in the same street.
Then decided to have a wander around at the local shops and stuff and just take in some of their life. They have a huge park in the middle of all the shops and everyone just hangs out here, I swear I have never seen so many people enjoying one area, I guess it did help that it was a WiFi free zone...haha but it was still just nice seeing the local people from all ages to two little kids that entertained us even though they had no idea I was watching them break dancing and taking photos.
7. But our little rest had to come to an end as we still need to find a supermarket. So off we go around the island several more times missing the correct streets and finally got to the supermarket, got what we needed than back to the boat.
Man were we tired we just dumped the cold stuff in the fridge and walked back up to the little local bar here and had ourselves a few drinks and listened to a local band and distress some.
Well tomorrow is another day.
Diary Photos
22nd Nov 2013 No Title
Sights around town
---
22nd Nov 2013 No Title
Sights around town
---
22nd Nov 2013 No Title
The park in the middle of the city
---
22nd Nov 2013 No Title
The Captain shopping.
---
22nd Nov 2013 No Title
The Park
---
22nd Nov 2013 No Title
The park
---
22nd Nov 2013 No Title
Kids
---
22nd Nov 2013 No Title
Kids
---
22nd Nov 2013 No Title
Kids
---
22nd Nov 2013 No Title
Cute kids
---
22nd Nov 2013 No Title
Local park
---
22nd Nov 2013 No Title
Up Close with a Cruise Ship
---
22nd Nov 2013 No Title
A local Band
---